Mushroom Festival 2022
The 2022 Mushroom Festival will be bigger and better than ever, back on State Street in the heart of Kennett Square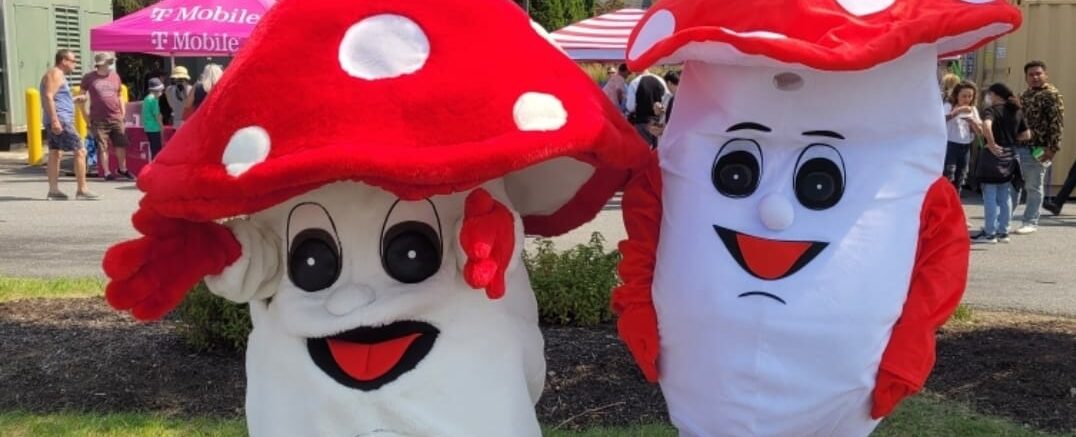 Make room for 'shrooms! The 2022 Mushroom Festival will be bigger and better and back on State Street in the heart of Kennett Square, on September 10th and 11th!
"We're thrilled to be back on State Street, to showcase not only mushrooms but also the community that helped make Kennett Square the Mushroom Capital of the World," says Gina Puoci, President, Mushroom Festival Board.
Mushroom Mania: Mushrooms are the star of the show, so make sure to visit the Mushroom Growers' Tent, where you'll see all kinds of live mushrooms (still growing!) and learn about the magical, unique world of mushrooms from the folks who know best—Kennett Square mushroom growers!
Fungi Foods: What's a mushroom festival without mushroom foods? Food lovers have plenty of choices, including the ever-popular breaded mushrooms and—back again this year—fresh, locally made mushroom soup loaded with hearty portabella and white button mushrooms. Enjoy some at the Festival and pick up a jar to take home!
Speaking of take-home, make sure to stop by the Mushroom Sales Booth to pick up some of your favorite fresh mushrooms (or get adventurous and try a new variety).
'Shroom Shopping: With crafts, creations, and culinary delights from Willow to Lafayette Streets, the Festival has something for everyone, from apparel and food to pet accessories and home décor.
Make sure to visit the many restaurants and merchants in Kennett Square and stop by the Mushroom Festival booth for even more unique mushroom-themed gifts.
Harvest Your Health with Mushrooms: Did you know that a handful of button mushrooms have as much potassium as a medium-sized banana? They're also fat- and cholesterol-free and have very low sodium and very few calories. Check out the demos by registered dietician Leslie Bonci as she offers tips on how to cook mushrooms, explains their powerful nutritional powers, and shares recipes. Leslie is a board-certified specialist in sports dietetics and is the owner of nutrition consulting company Active Eating Advice and co-founder of Performance365, a sports nutrition consulting company. Leslie is also the sports nutrition consultant for the Kansas City Chiefs.
Saturday & Sunday, September 10th and 11th, at 11:15am, Main Stage
Winner, Winner, Mushroom Dinner!: This event puts the 'fun' in fungi. A group of brave contestants will see how many fried mushrooms they can eat in eight minutes! Hosted by WXTU's Jeff Kurkjian.
Saturday, September 10th, 2pm, Main Stage
'Chopped' Mushrooms: New this year! Four contestants will square off in front of a live audience to compete in the popular Food Network-themed 'Chopped' competition. Each contestant will have 30 minutes to create a delicious mushroom-centric dish for four judges, who will judge the entries on taste, presentation, creativity, and use of mushrooms. Contestants will have a shared pantry of ingredients including salt, pepper, oils, etc., and contestant's workstation will be stocked with a few standard ingredients. In addition, each contestant will have a mystery bag of ingredients that must be used! Come watch as these contestants create unique and delicious mushroom-themed dishes—'Chopped'-style! Adult and Junior (ages 13-17) versions.
Saturday, September 10th, at 12:30pm, Main Stage, Adults
Sunday, September 11th, at 12:30pm, Main Stage, Juniors
'Shroom Sounds: From classic rock to pop to oldies to even a little classical music, a variety of bands and artists will be performing at the Main Stage for everyone to sing and dance.
Lil' Buttons: Bring the kids (but not the pets, sorry) and stop by the Children's Area, where kids can get the wiggles out in the Bounce Zone. For those who want to go a little higher, head to the Bungee Jump! The adorable mushroom character Fun Gus will be walking around the Festival and loves exchanging hi-fives, dancing, and taking photos with everyone. Happy Heart Clown 'n Stuff will be twisting balloons and Miss Maggie Sings will be there on Saturday!
Miss Maggie Sings, Saturday, September 10, at 3pm, Main Stage
More, More, More! There will also be an Antique and Classic Car Show (Saturday only), a Painted Mushroom Silent Auction, Cute as a Button Photo Contest, and much more!
Wristbands are $5 for the weekend. Proceeds from the Festival are awarded to local charities and nonprofit organizations. Over the past 20 years, the Mushroom Festival has donated more than $1 million in funds to local organizations for things like books, playground equipment, food, transportation, and healthcare services.
Download the free Mushroom Festival App at Google Play or in the App Store and visit www.mushroomfestival.org for more information.