Kennett Brewfest brings in craft beer lovers near and far!
A love of local craft beer and the Norwich City football team is bringing a pair of brothers from the UK to Kennett Brewfest. Plus, stay tuned next week for the next part of our Brewfest Brotherhood story, featuring Kennett locals!
"It was the best of times…"
This story begins in Norwich, a pleasant two-hour train ride northeast of London, and the community where the Thornhill
brothers were born and spent their early years together. This idyllic English city became the original backdrop for the brothers' mutual love of craft beer, small-town culture, and beer festivals—leading two of the brothers, Paul and Jason Thornhill, to travel across the pond from the UK to Kennett Square specifically for Kennett Brewfest on Saturday, October 7th (tickets still available at kennettbrewfest.com). 
Paul shared their travels across Europe and how Kennett was chosen as their next brew adventure.
Beer Festival World Tour
The Thornhill brothers' membership in CAMRA—Campaign for Real Ale, an organization that promotes cask-conditioned "real ale" and the traditional British pub—has opened up opportunities to travel to approximately twenty beer festivals across the UK. One premier festival is the Norwich (yes, where our story began) Beer Festival, one of the longest-running festivals in the UK, celebrating 45 years in late October 2023. This storied festival is held within The Halls of Norwich, a friary complex dating back to the 14th century. "It has allowed us not only to support smaller breweries but also to explore the sometimes unique tastes incorporated into the brew, and additionally, local establishments that are there for communities to meet," Paul shares, and adds, "this sadly has been dying out in the UK."
Not only wishing to support local breweries and festivals, the brothers also seek adventure in flavors of brews. While Paul enjoys a "Porter packed with tastes of vanilla," Jason prefers beer with chocolate notes, while their younger brother, David, always tries brews spiced with chili—"the hotter, the better," Paul reports.
As their travels expanded into Europe, the brothers have visited the Corfu Beer Festival and explored beer shops like the one in Sofia, Bulgaria, packed to the brim with selections from small breweries. This culminated in a trip by the four brothers to the annual Brussels Beer Festival to celebrate Jason's 50th birthday, where they sampled brews similar to those popular in the States. And so began their idea for the next part of their beer adventures.
Norwich City Football Club to Kennett Square
When their experience in Belgium opened their eyes to global beers, the brothers considered the best way to map the broader brew community. As their love of football (soccer for us Americans) equals their love of local craft beer, the answer came in the form of their local football club, Norwich City. Paul shares their goal is now to "try a beer to represent every nationality of the players on the roster." One of these players being Josh Sargent, a US National Team player, brought the search for their next beer destination to the USA.
Paul and Jason were drawn to Kennett Brewfest partly due to the long-standing history of the festival, celebrating its 26th year. "Events that manage to keep going over the years must be doing something right," Paul says. In addition, Paul shared that visiting a regional town rather than a larger city would be part of the experience, as he and his brothers enjoy immersing themselves in authentic cultures. "We are staying in town, looking forward to seeing the town, and enjoying a local evening out too," Paul adds. Lastly, Paul and Jason were drawn to Kennett Brewfest as they viewed the photographs from previous years, where the fun was evident on the smiling faces.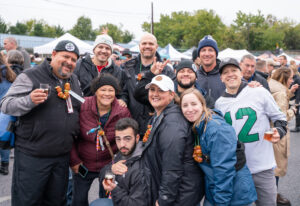 Get YOUR Brewfest Tickets… You Won't Want to Miss Out!
What the Thornhills discerned in those photos is something we know well. The community of Kennett Square and the welcoming openness and shared connectivity of its people. Kennett Brewfest celebrates community, friendship, and all things craft beer. You won't want to miss the celebration on Saturday, October 7th, with 90+ breweries pouring some fantastic brews. Get your tickets now at kennettbrewfest.com.
If it has drawn the Thornhill brothers from across the Atlantic, surely it is something special. Paul adds that if anybody has an idea for their next beer festival, please let them know.
And, welcome to Kennett, Paul and Jason. We hope you enjoy your time here as much as we do!
---
Our sincere gratitude to Paul Thornhill for the generosity of your time, sharing your story, and your photos.