One of the beautifully unique aspects of the Kennett Square community is the vibrant diversity found within its people. Hispanic Heritage Month, which runs from September 15th through October 15th, is a dedicated time to acknowledge, honor, and celebrate our Hispanic neighbors, businesses, friends, and family. During this month, we urge the Kennett community to not only celebrate but also learn and honor the histories, cultures, and contributions of the Hispanic community.
Hispanic Heritage Festival
There is no better place to do that than the Hispanic Heritage Festival, presented by Casa Guanajuato, on Saturday, September 16th from 12-6 pm at Anson B. Nixon Park. This lively Festival will be packed full of "nonstop activity" from start to finish, including participants from nine different countries from Central & South America, as well as the Caribbean. We recently chatted with Mayra Castillo, a long-time member and secretary of Casa Guanajuato, who filled us in on the things you must experience at the Festival on Saturday.
Music & Dancing
At the heart of Hispanic culture is music, and the Hispanic Heritage Festival will be no different. In addition to traditional music, including a mariachi band, Castillo shared that Casa Guanajuato wanted to give opportunities to the younger generation of musicians and artists. A part of this new generation of singers is Seylin, who Castillo describes as a "young Selena," referring to the best-selling Latina artist known as the "Queen of Tejano Music." Other performers include The New Hot Earth Legend, Jaire Sound, Ulises "El Chuparrosas Jr.", Marimba Flores Peteneras, JT Group, Comparsa Mini Flip Flops from Mexico, Lirico, and The Underground.
Performances will also feature traditional dancing, including Casa Guanajuato's well-known, beloved, and sought-out dance troupe, Danza Tenochtli. In addition, festival attendees will enjoy Marimba, the traditional folklore dance of Guatemala.
Food, Education & More
Come hungry (and prepared with cash) as local restaurants and ice cream shops come prepared to introduce you to foods from Mexico, Guatemala, and Venezuela. Castillo recommends the Mexican ice cream, as an important part of the culture, and also the Mexican snacks. "If you haven't had a Mexican snack before, you MUST try one," referring to corn on the husk, churros, chicharrones, and more!
While enjoying your snack, shop the many vendors selling crafts and goods, and make your way to the Hispanic Heritage education center in the Children's area. There, learn about arts, culture, and significant figures of different countries in a fun Mexican BINGO type of game! Children can also help break piñatas, filled with delicious candies, during two different points in the day.
At 2 pm, join Casa Guanajuato as they recognize organizations and individuals who have served and bolstered the Hispanic community in Southern Chester County, including the Migrant Education Program, People's Light—recognizing the ten-year project culminating in the 2022 production of "Mushroom"—and Norma Diego, working at LCH for ten years.
Keep the fun going at the After-Party held at The Creamery of Kennett Square (401 Birch St.). Festival ticket holders can enjoy 1⁄2 price beverages, with the other 1⁄2 of proceeds donated to Casa Guanajuato to support community programming. Live music and a food truck will round out the evening.
Third Thursday
If you can't make the Hispanic Heritage Festival, celebrate with Casa Guanajuato during Third Thursday, presented by Kennett Collaborative, on Thursday, September 21st within the 6-7 pm hour, where Danza Tenochtli will be performing at the intersection of State and Union Streets. If you missed last year, you certainly won't want to miss this performance. There was something breathtakingly beautiful in the vibrant colors and dancers amidst the Kennett Square brick buildings. Children and adults alike smiled ear to ear, mesmerized by the gorgeous dancers, weaving among each other, the streets, and into our hearts.
Joining the fun and adding their own Hispanic flair will be Third Thursday favorite, La Bamba, as well as the taco truck, Taqueria Los Juárez. 
Hispanic Heritage Month & Casa Guanajuato
As we talked, Castillo opened up about the past and future of Casa Guanajuato. Founded in 2003 with funding from the Mexican state of Guanajuato, with the goal of providing a sense of home—"Casa"—for families that relocated to the Kennett area. Many Casa Guanajuato organizations were founded across the United States, and the Kennett chapter is one of the very few remaining. In keeping with the original purpose of keeping tied to roots and tradition, Casa Guanajuato continued to expand and include heritages from Mexico, Central America & South America.
"Hispanic Heritage Month means diversity in the Hispanic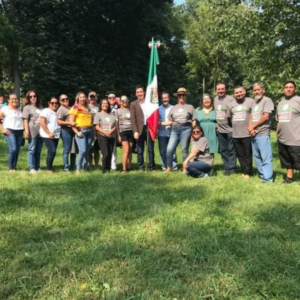 community," Castillo says. "We love providing a safe space, especially for those newer to the country." Mayra Castillo—who speaks three languages fluently, "and a little Portuguese and Italian," she adds with a chuckle—moved to America when she was 12 years old. She remembers not feeling as she belonged, in either her country of birth or the country she lived in, and wished she had a community to help her in that journey. Now, she proudly states "Mexico is my first home, and America is my second home." With a Masters in Bilingual Bicultural Studies, as well as her own personal experience, Castillo is aware of the vital importance an organization such as Casa Guanajuato in our area. "Having a place where people can go, be with family, hear their music, eat their food," is the paramount goal of Casa Guanajuato in providing a sense of place and belonging.
This recognition of different cultures, languages, and backgrounds is the main reason the premiere event of Casa Guanajuato is shifting from the Cinco de Mayo festival, which the organization has helmed since 2007, to the Hispanic Heritage Festival. In the shift towards even more inclusivity, celebrating Hispanic Heritage Month seemed the natural choice. Seven different countries achieved their independence in the timeframe between September 15th and October 15th.
In addition to this festival, mark your calendar for the Dia de los Muertos (Day of the Dead) Festival, November 3rd-5th, and keep your eye out for Casa Guanajuato's many activities and workshops, including How to Make a Piñata coming soon at The Kennett Library. Castillo also encourages the community to attend 2nd Annual Kennett Bike Fest at The Creamery. 150+ free refurbished bicycles and new bike helmets (helmets donated by Nemours Children's Hospital) will be distributed to local community members on a first-come, first- serve basis.
Casa Guanajuato is a local nonprofit and is always looking for support via donations and volunteering. Find out more information on their newly revamped bilungual website, and be sure to follow them on Facebook.
---
Thank you to Casa Guanajuato & Marya Castillo for use of their graphics and photos.