Do you want to encourage better development practices in our Boroughs and Townships? This short guide will help you get started.
At the heart of our housing crisis  is our lack of confidence that we can build great places once again. Most of us feel a slight rise in blood pressure when we hear of a new development in our community—a sense of dread rooted in the foregone conclusion that what is being proposed will be more of the same soulless structures that will destroy even more of the landscape.
Because we have not valued beauty in our built environment over the last 80-100 years, we have lost the confidence in our collective selves to build lovable places once again. There's no reason we can't build places like Marshalton, Unionville, Kimberton, West Chester, and Kennett Square today.
Our hope at Kennett Collaborative is to make it easier to co-create beautiful, sustainable, prosperous, and economically and socially successful places which residents will love for generations. If you would like to join us on this mission, please consider the following steps.
1. Find Inspiration
Inspiration for our Townships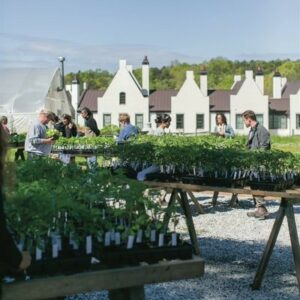 Serenbe (Georgia)
Serenbe balances nature and community with walkable clusters of homes, shops, businesses, and artists' studios modeled on English villages. Serenbe features thoughtfully designed and walkable hamlets, connected to one another via footpaths, all set within 1,200 acres of preserved land/forest. Serenbe has won numerous awards, including the Urban Land Institute Inaugural Sustainability Award and the Atlanta Regional Commission's "Development of Excellence" award. EarthCraft named Serenbe the "Development of the Year."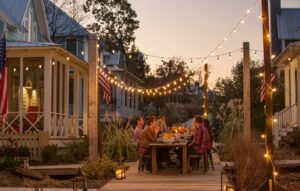 Carlton Landing (Oklahoma)
Like historic towns, Carlton Landing features a mix of uses in the form of town center shops, restaurants, live-work housing, and generous greens and parks. Multiple neighborhoods are centered on civic buildings and public space, each with distinct character and residential mix. Neighborhoods are connected by a network of streets that is not a rigid grid—rather, the streets follow the undulating topography to minimize the site disturbances and engineering. The community's residential options range from condominiums, townhouses, and courtyard cottages to larger single-family homes—and current plans include workforce housing and multi-generational/family compounds. The town, which is 20 percent built, is designed for more than 5,000 residents when complete in about 2040.
I'On (South Carolina)
Built almost 25 years ago, I'on is a model for the type of beauty we can create when we learn from the wisdom of the past and put people ahead of cars in our design. I'On's stately architecture exudes southern tradition at its best.  The low country vernacular gently wraps residents into a neighborhood that's distinct from the usual suburban sprawl. It's a place designed to encourage community. Parks, lakes, canals, trails, and playgrounds in I'On are not just an afterthought; they are integrated seamlessly.
Other Notable Communities
Wheeler District, Oklahoma City
Seaside, Rosemary Beach, Alice Beach (Florida)
Inspiration for our Boroughs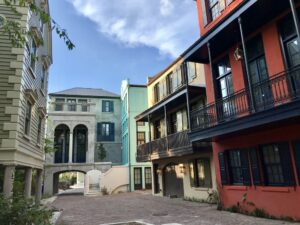 Catfiddle Alley (South Carolina)
There's likely not a more thoughtful infill development in America. Every inch of Catfiddle Alley is meticulously considered, with 24 new homes on one acre, inside of an existing block.
As opposed to a typical urban row or lane which forms a rigid passage, the street is intertwined with the architecture and private space is intertwined with public space in an unexpected, yet intentional way. Buildings are built right up to the street, allowing the houses themselves to take on slightly uneven angles as they accommodate the curved shape of the street. The open areas between buildings are owned and maintained by the households, and the road itself is a place to stay, not just a place to pass through. The intention is to foster the kind of neighborliness that inspires taking care of things and binds people and places together.

Daybreak Mews (Utah)
The design of Daybreak Mews in South Jordan, Utah, was driven by a need to provide attainable housing—achieved by efficiently using 3.2 acres on the interior of two blocks within walking distance of a light rail station. The 147 houses, ranging from 900 to 1,400 square feet at a density of just above 20 units per acre, are oriented onto a European-style pedestrian mews on two blocks within a large, mixed-use, master planned community connected by transit to the Salt Lake City region.
There are dozens more examples of communities and infill developments that have been built recently and are both thoughtful and durable. We can build good places once again! But how?
2. Dive Deeper
We know that we can build beautiful, sustainable, prosperous, economically and socially successful places once again! Now what? Why do we continue to see the same computer-generated strips of sprawl and irreversible sameness? We're glad you asked! Advocating for the change we want to see will require diving deeper into zoning codes and the development process.
Every community's Comprehensive Plan calls for villages and walkable urban environments in order to improve quality of life and preserve open green space and features inspirational images of places built 100+ years ago. So, we know the right way to build. But communities almost never realize those development patterns. Instead, they encourage a type of development pattern that is environmentally damaging, fiscally insolvent, and causes neighbors to say, "Don't build more homes in my backyard!" Municipal codes are riddled with inconsistent zoning and codes that allow for the very use they don't want to see or discourage the type of development their comprehensive plans suggest they want. 
Citizens can help advocate for changes to the zoning codes that align community visions with what actually gets built. Here are some resources for diving deeper:
AARP: A Handbook for Improved Neighborhoods
AARP: All About ADUs
AARP: Rural Livability
PA Zoning Ordinance Amendment Procedures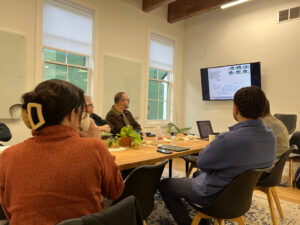 3. Show Up and Advocate
At the municipal level, all zoning changes are subject to public process. It's important to be part of that process. Show up and champion the type of development you want to see. A  positive vision and thoughtful questions and comments go a long way in a room full of naysayers.
Help build a movement. Talk to your neighbors, share the vision and these resources, invite them to watch the recording of tonight's presentation. Have these conversations with your municipality's elected officials, too. Thoughtful development won't happen without your support and that of like-minded community members.
Consider serving on a municipal board or commission. Elected officials make decisions that are informed by recommendations from municipal staff and committees like planning commissions and other bodies to which local residents and business owners can be appointed.
Please reach out to Kennett Collaborative if we can help support your advocacy for better places!
Bo Wright, Executive Director, Kennett Collaborative
Bo@KennettCollaborative.org