"Love & Support for All Things Craft Beer"
In its 26th year, the Kennett Brewfest is the area's premier beer festival, but at its origin and heart, the beloved annual event is about community and supporting craft brewers. "When we started the Kennett Brewfest in 1998," says Jeff Norman, the originator, committee chair, and Brewfest King, "I think the best I hoped for was a nice small event that would help raise some money for the then Kennett Revitalization Task Force. Within 6-10 years of fantastic Brewfest success, I had much grander thoughts about the Brewfest's role in the Kennett Area and its love and support for all things craft beer. It seemed natural to me that some local craft brewery or new start-up would see Kennett Square the way I did and set up shop here. It was critical to have such a respected and established brewery like Victory be the first to move into the borough in April 2015. On the heels of that, the brand-new Kennett Brewing Company opened a few months later."
Beer lovers don't have to travel far for stellar craft beer these days. Nine breweries or tasting rooms featuring local brews are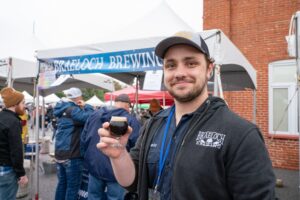 within an eight-mile radius from Kennett Square. Starting within the borough, Braeloch Brewing and Tired Hands Taproom join the aforementioned Victory Brewing and KBC as standouts pouring their own craft beers. In less than 10 minutes, locals can also enjoy 2SP Brewing pouring at their Two Stones Pub in Kennett Township, Be Here Brewing in Avondale, and Blondes and Brewnettes Brewing in West Grove. "We certainly have our own local brewery trail!," Norman exclaims.
And where else do you have the chance to taste samples from these fantastic breweries, plus 70 others? The 2023 Kennett Brewfest on Saturday, October 7th. General Session tickets (Connoisseur Session is already sold out!) are going fast, and a sellout is likely, so organizers encourage purchasing tickets early to avoid disappointment at kennettbrewfest.com.
Brewery Rundown for Brewfest 2023 from The Brewfest King
We asked The Brewfest King for some recommendations to start making your Brewfest plan of attack. For the following categories, Norman recommends:
Your Local Spin
2SP
Victory Brewing
KBC
Braeloch Brewing
Tired Hands Brewing
Be Here Brewing
Blondes and Brewnettes Brewing
Great First Timers
Wissahickon Brewing (Wissahickon, PA)
Bright Path Brewing (Jim Thorpe, PA)
Troubles End Brewing (Collegeville, PA)
Pittsburgh Area Brew Crew
Brew Gentlemen
Hitchhiker
LoLev Beer Co. (founded by local brothers Scott and Ten Slesinski)
Not to Miss:
Dewey Beer Co. (Dewey Beach, DE)
Evergrain Brewing (Harrisburg, PA)
Wilmington Brew Works (Wilmington, DE)
Hidden River (Douglassville, PA)
Tired Hands (Ardmore, PA)
Levante (West Chester, PA): will be bringing their Ales for ALS beer to Brewfest, a cause near to Norman's heart in honor of his sister, who passed away from ALS in 2022.
For a full listing of breweries, visit kennettbrewfest.com. In addition to craft beer samples, the Kennett Brewfest (held at 600 S. Broad Street) will also feature music from world-renowned musician Carl Filipiak, unique vendors, and food trucks.
Celebrate & Support the Community
Not only does Brewfest celebrate local and regional beer, but it also celebrates the Kennett community. Brewfest has been the longstanding biggest fundraiser for Kennett Collaborative, the non-profit that helps Kennett thrive, with all funds raised going towards community events and programming. "We are grateful for the Kennett Brewfest loyal attendees," says Kennett Collaborative's Executive Director, Daniel Embree. "Not many know that their ticket purchase goes towards continuing our programs and events such as the weekly KSQ Farmers Market, Third Thursdays, Christmas in Kennett, and so much more. Come raise a glass with us on October 7th!"