Harvesting Hope in Kennett Square for 38 Years
The Mushroom Festival is the weekend that Kennett Square leans fully in to its moniker of "The Mushroom Capital of the World."
For a weekend in September, thousands of residents and visitors alike join in all the mushroom fun — purchasing up all the mushroom goods and foods, while enjoying novelty spotlights like the Fried Mushroom Eating Contests, Chopped Mushroom Cook-off, and back this year, The Mushroom Picking Contest!
Along with mushrooms, Kennett Square is known for its strong community. All proceeds from sponsorships and ticket sales from The Mushroom Festival goes back into the Kennett community. "The idea behind this year's theme of Harvesting Hope comes from our Grant Program," shared Festival Coordinator, Gale Ferranto. "We raised $77,000 of grant money in 2022, and we hope to raise more this year." Over the years, The Festival's Grant Program has awarded over $1 million and helps provide for many community projects and resources — "from books and meals to transportation services, camp and early learning sponsorships, medical aid, and much more." We here at Kennett Collaborative have been the beneficiary of grants, and wish to thank The Mushroom Festival Board of Directors for all its hard work in ensuring the Festival remains an event that celebrates and supports the Kennett community.
Come Say "Hi!" at the Kennett Collaborative Booth
For the first time, we will be apart of The Mushroom Festival weekend with our own booth, so be sure to stop by and say "hi!" Our board members and staff would love to see you, and talk about our vital work in helping Kennett thrive through intentional programs and events. Find us at Booth D16, right in front of our office location at 106 W. State Street, near Talula's Table & Lily's.
Also available at the Kennett Collaborative booth will be our handmade pottery Mushroom Mug! All proceeds of this locally-made custom mug will go straight to the programming you love, such as the KSQ Farmers Market, Third Thursdays, Christmas in Kennett and more!
Mushroom Festival 2023
Saturday, September 9th: 10 am to 6 pm
Sunday, September 10th: 10 am to 4 pm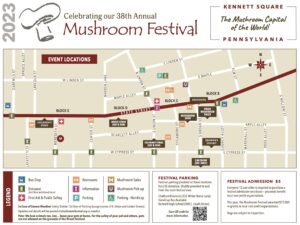 First 4 Steps to Plan Your Mushroom Festival Weekend
Step 1: Download the App (search for Mushroom Festival in the App Store or on Google Play) or visit mushroomfestival.org for up to date Schedule and Announcements.
Step 2: Come prepared with Cash! Wristbands are $5 each (for all, ages 12+), available for purchase at the each Entrance gate with Cash Only. Also, while many vendors also accept cards, cash is always appreciated! Parking is also a Cash Only donation. Speaking of…
Step 3: Make your Parking Plan! Parking is available via The Festival with busing to the main festival area at the following locations:
Chatham Financial Lot: 235 White House Lane, Kennett Square, PA
Kennett High School Lot: 100 E. South Street, Kennett Square, PA

Additional overflow parking for this location at the Kennett Square Borough Building Lot: 600 S. Broad Street, Kennett Square, PA

Handicap Parking available near South Walnut Street & State Street (follow signs)
Note: Buses will run on Saturday until 6:30 pm and Sunday until 4:30 pm.
Step 4: Create your Festival Plan to enjoy the full weekend, Kennett, and support local favorite vendors! Check out the list of vendors here.
So many fun activities and events over the weekend (full list here; subject to change so be sure to check!). We will definitely be checking out:
Mushroom Picking Contest—BACK FOR 2023!: For the first time in years, this contest features 6 professional mushroom harvesters who will compete for bragging rights as the #1 Mushroom Harvester as they show off their FAST HANDS and KNIFE SKILLS! Saturday, September 9 & Sunday, September 10, 2pm, South Broad Street in front of Anchor Fitness.
Mushroom Growers' Exhibit: See mushrooms come to life from the tiny spore to the mature, ready to eat fungi! Walk your way through the mushroom growing exhibit, where you will see how white button, baby bella, Portabella, Shiitake, Maitake, Oyster, and Royal Trumpet mushrooms grow. S. Broad Street area; Saturday, 10am to 6pm & Sunday, 10am to 4pm.
Live in Kennett Square: What's a festival without some local music? Throughout the weekend, enjoy various musical
acts from in and around Kennett Square. Liberty Place Parking Lot; near Center and State Street.
Fried Mushroom Eating Contest: Buona Food's Original Fried mushrooms are a Festival favorite every year, but only a few have the opportunity to eat baskets full of the crunchy, mouthwatering snack during the National Fried Mushroom Eating Contest. Get there early for a spot to watch this popular fast-paced eating extravaganza. Sunday, September 10, 12:30pm, Culinary Tent, South Union Street.
Chopped Mushroom Cook-Off & Culinary Demonstrations (Culinary Tent, South Union Street):

Chopped Cook-Off: Amateur cooks combine all the foods in the mystery bag into a tasty and creative dish. Contestants must cook their dish in 30 minutes or less and will complete three plates for the judges. Saturday & Sunday, September 9 & 10, at 10am.
Culinary Demonstrations: Local chefs will share their mushroom cooking tips, tricks, and recipes on Saturday & Sunday. Times available here.

Children's Entertainment: Moon bounces, bungee jumping, and children's games will be located beginning at 300 West State Street, along with Happy Heart Clown 'N Stuff and more!

 
See you at The 2023 Mushroom Festival!
Thank you to The Mushroom Festival Board of Directors for the information, and to Chester County's Brandywine Valley for the use of the featured photographs.