Libraries have been evolving for well over a decade, and the new Kennett Library & Resource Center displays this evolution in a powerfully inclusive way. Of course, the Library will always be the place for anyone to borrow books, but now the additional spaces the new building provides allow the "Resource Center" to truly be just that, furthering the impact on even more in the community.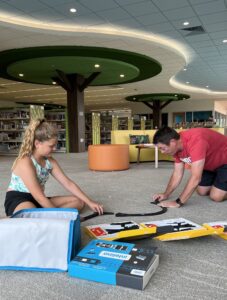 Visitors experience this in a palpable way as soon as they enter the new building. In addition to the welcoming stacks of books,

there are several open and private spaces for work, play, and creativity. Two of these spaces are the maker spaces — one for the young and the other for the young at heart — outfitted with all the materials needed to dream big, including 3D printers. Speaking of technology, have you ever seen a laptop "vending machine"? The Kennett Library now has two laptop kiosks, each with 12 laptops, for the community to utilize. All that is needed to "check out" a laptop? A Chester County Library Card. Along with free Wi-Fi, this service puts technology, including online learning, at every person's fingertips.
One of the long-standing programs that was front of mind as the new building was planned is the Adult Literacy Program (ALP), which assists native-born and newly arriving immigrant families in improving literacy, language, and educational skills while facilitating their integration into the community. The ALP, in partnership with numerous other agencies, offers classes from September to May each year, offering day and evening classes. Now, with the help of the technology available at the new building, these classes can be attended either virtually or in person.
Other highlights of the new Kennett Library & Resource Center include:
"Visually, Kennett Library's new facility is a grand entrance to historic Kennett Square," says Kennett Collaborative's Executive Director, Daniel Embree. "More than just a building, this resource is already proving to be an important gathering point for residents, visitors, and local nonprofits. At Kennett Collaborative, we are thrilled to partner with the expanding library team to collaborate on quality community programming throughout the year!"
The Kennett Library & Resource Center will celebrate its Grand Opening on August 27th, 2023. All are welcome to attend. The celebration will begin at 1 pm with a ceremonial book pass down State Street, followed by a land acknowledgment by the Lenape Nation of Pennsylvania, brief remarks by local dignitaries, and a ribbon-cutting.
Community members are encouraged to participate in the book pass. The day will be filled with activities for the whole family. Explore the maker spaces, preview the upcoming programs, and enjoy face painting, food trucks, and more.
The New Kennett Library & Resource Center is located at 320 E. State Street. Visit their website for hours and more information: kennettlibrary.com
*Exterior & co-working photos courtesy of Kennett Library.