If books are the proof that humans are capable of working magic, as suggested by Carl Sagan, then nowhere is this truth more beautifully embodied than at The Bookhouse Hotel, the latest addition to Kennett Square, nestled in the heart of the Brandywine Valley.
Co-owner Stephanie Olenik shares how the magic of books, design, history and Kennett's unique charm came together to create The Bookhouse Hotel, earning the accolade as one of "The Best New Hotels in the US…"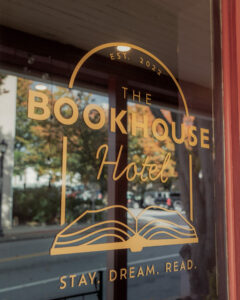 Stepping through the doors of this invisible concierge service hotel is like stepping into a portal that transports you from the ordinary to a book-lover's dream come true. With over 5,000 books adorning its shelves, The Bookhouse Hotel offers a cozy haven for you to linger, escape, and relax, while simultaneously beckoning you to explore either within the pages of a good book or by venturing out to enjoy the treasures Kennett and its surroundings have to offer.
An Inspired Project
As the husband and wife team, Stephanie and Matt Olenik, in conjunction with their business partners, Stephen Tallon and Bill Rookstool, considered their next endeavor, they wanted to showcase their talents: Stephanie's expertise in real estate and interior design, combined with Matt's proven construction skills from successful Airbnb ventures. They began exploring the possibility of a boutique hotel. When The Kennett Bookhouse property for sale, the ownership team knew they had found the right space, in the ideal location, at just the right moment. While the historic building was used in many ways, including as a barbershop and ceramic shop, it was miraculously zoned for these many uses, including use as a hotel. 
Inspired by the building's history as Macaluso's vintage and antique bookstore, Stephanie leaned fully into the book motif. It didn't hurt that she also had over 5,000 books at her disposal, which came along with the sale of the building. These books, a mixture of new and vintage, set the tone for Stephanie's design of the public lobby and the four individual rooms. "Design is my favorite thing," says Stephanie, a Moore College of Art and Design graduate, who chose jewel tones and that warm, homey feeling which comes by blending old and new. While Stephanie scoured vintage stores and local online marketplaces for unique decor, Matt skillfully transformed the structure with its narrow rooms, winding staircases, and slanted walls into a welcoming space for guests. As Stephanie shares, "We had to gut the entire place," but they managed to preserve the building's integrity, enhancing its beauty and breathing new life into this cherished space. 
The Bookhouse Hotel offers four guest rooms, each named as a nod to literary spaces. These rooms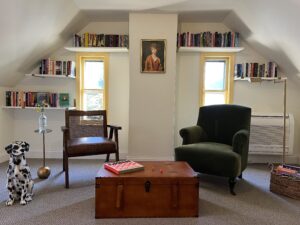 can be reserved individually or in various combinations, accommodating anywhere from one to four guests, with some featuring bi-level areas perfect for escaping into your book of choice. Well-appointed kitchenettes and private bathrooms ensure your stay is comfortable and inviting. For larger groups, the entire hotel can be reserved, accommodating up to 11 guests, making it a unique choice for families, wedding parties, girl's weekends, and botanical enthusiasts visiting Longwood Gardens. While there's no minimum stay requirement, it's highly likely that guests will find it hard to leave, enchanted by the hotel's charming warmth and impossibly welcoming atmosphere, making it the perfect fit within the Kennett community.
Just as Charming as Kennett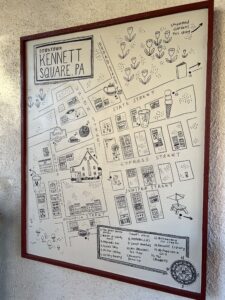 "The Kennett community is like no other," Stephanie shared, a native to the Philadelphia area. "It's a cozy town that just feels like home to everyone." As guests begin to enjoy The Bookhouse hotel, they are encouraged to engage as not simply a guest, but also as a "part of a story that unfolds in the heart of Kennett's enchanting downtown." Situated a block off State Street, guests can explore the walkable borough, enjoying its unique cafes, restaurants, bakeries, boutiques, artisanal stores, and beer gardens. The central location in the Brandywine Valley provides easy access to excursions to Longwood Gardens (just a 5-minute drive away), wineries, antiquing, and so much more. Back at the hotel, guests can savor Kennett's own Mrs. Robinson's tea and Horn and Hardart coffee, all while surrounded by the inviting embrace of books. All guests are welcome to indulge in reading as many books as they desire during their stay, with the option to purchase and have books delivered to their homes if they wish to continue their literary journey. Stay tuned for details about the Hotel Book Club, a members-only subscription service offering monthly book deliveries, hotel discounts, and more. The Oleniks have deeply honored the local community throughout the design and construction of the hotel, paying homage to Kennett's rich history and heritage — see how many mushrooms you can spot during your stay.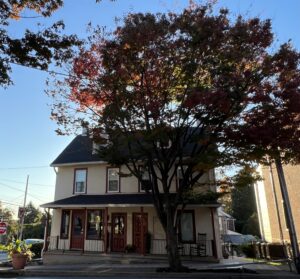 In line with their slogan, there might be no better way to stay, dream, and read than at The Bookhouse Hotel in Kennett Square. Surrounded by stacks of books as you drift off to sleep in a historic building nestled in a charming town, you may even discover that magic truly exists every time you open a book—especially when a book is opened during your stay at The Bookhouse Hotel, where every page is a new adventure, and every guest is cherished.
The Bookhouse Hotel is located at 130 S. Union Street, Kennett Square, PA. Make reservations and find more info at thebookhousehotel.com. And be sure to follow on Facebook and Instagram.
---
Thank you to Stephanie Olenik and The Bookhouse Hotel for sharing their story and photos!