Our team is the driving force behind our mission, working tirelessly to help Kennett thrive through intentional events, programs, placemaking, and collaborations. We invite you to get to know us, hear our personal stories, and discover some of our favorite things about this special Kennett community.
Ros Fenton – Community Programs Manager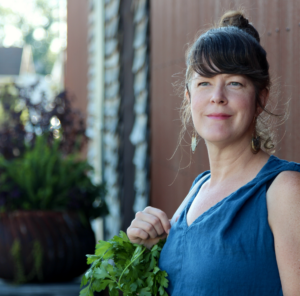 Joining the organization in 2016 as our KSQ Farmers Market Manager, Ros was drawn to her original position as she was a customer and a "general lover" of farmers' markets, and eager to be involved in the community in this way. Now the Kennett Collaborative's full-time Programs Manager, Ros oversees programs such as Third Thursday, There's No Place Like Kennett for the Holidays, and more, in addition to the KSQ Farmers Market. Beloved by vendors, community members, and team members alike, we rely on Ros for her sage wisdom, experience, creativity, and steady presence.
What Kennett Collaborative event or program do you most enjoy personally?
The KSQ Farmers Market is one of my happy places! I love working with the beautiful community of farmers and makers and getting to know the people who shop and support it.
Your Kennett "Enthusiast" tip?
I've met so many amazing people through working our events and programs. If you're looking for ways to connect and get more rooted, find a spot to volunteer, or just come out and support what's happening in the Kennett community!
What is one thing that is ALWAYS in your fridge or pantry?
Whatever is in season from the farmers market!
When and where are you the happiest?
Beachcombing on any beach but especially the Outer Banks.
Today, I am grateful for…
The changing seasons and the beauty of fall.
Mary Lou Baily – Events Coordinator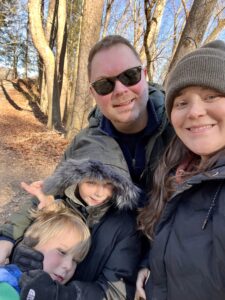 For the newest member of the KC team, Kennett Square holds a special place in Mary Lou's heart. From childhood memories of attending the Kennett Friends Meeting to participating in parades with a family business, or simply watching them from a family-friends' storefront on State Street, her roots run deep in the community. Mary Lou jumped right in to deftly coordinate Kennett Brewfest—quite quickly, we should add, which was a resounding success. She looks forward to working alongside a "vibrant and engaged community" who share her love of Kennett Square and Southern Chester County.
What Kennett Collaborative event or program do you most enjoy personally?
One Kennett Collaborative event that is particularly meaningful to me is the Holiday Village Market. Every year, my husband and I, along with our two young sons, make it a tradition to kickstart our holidays at this delightful event. The festive ambiance, the sense of community, the cozy fire pits, and the enchanting "snow" falling all come together to create a magical experience we truly cherish.
Your Kennett "Enthusiast" tip?
If you're exploring Kennett Square, I highly recommend four favorites: a morning Lavender Tea Oat Milk Latte at Talulah's Table, a hike at Anson B Nixon Park, the Nightmare burger from Burger Stop, and ending the afternoon by enjoying a cocktail at Letty's. These are some gems that make Kennett special.
Are you an early bird or a night owl?
Naturally a night owl but have to be an early bird with young kids in the house.
What would your perfect day look like?
Everything starts with good coffee, having fun outdoor activities planned with my family, then home to cook a new recipe and hangout by the fire.
Today, I am grateful for…
My husband and two boys.
Kelli Prater – Communications Coordinator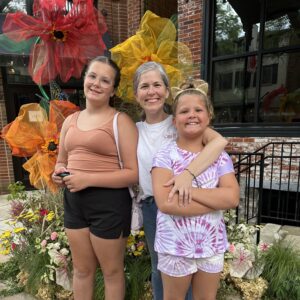 Beginning her time at Kennett Collaborative as the Community Engagement Manager in 2021, Kelli is grateful to continue working with the team and community she loves as the Communications Coordinator. She enjoys sharing stories from Kennett in our weekly Around the Square Newsletter as well as collaborating with other organizations and small businesses. If you send us a message or leave a comment on our social channels, chances are Kelli is on the other side… please say hi!
What Kennett Collaborative event or program do you most enjoy personally?
This feels similar to when my girls asking me to select a favorite daughter (which they do quite often). However, as my teammates have bravely answered, so shall I. One that holds a special place in my heart is Kennett Blooms Floral Flash, when public floral installations pop up for a glorious summer weekend. I could explore and linger all day, marveling at the creativity and beauty while interacting with others doing the same.
Your Kennett "Enthusiast" tip?
People are what make Kennett so special. Get to know as many as you can—other residents, your baristas, the merchants & store owners throughout town, farmers and makers at the KSQ Farmers Market, the public servants, and the wondefully diverse individuals who make up the robust nonprofit community in Kennett (volunteering is a great place to start!). There seems to be no limit on the number of generous and authentic people I have met, and my life has been enhanced because of it.
What was the last show you binge watched?
The Big Brunch, which is a heart-warming competition series with quick-witted hosts. While the competing chefs are talented in their craft, they are also all striving to make a positive impact in their communities.
What can you talk about for hours?
Oh so many things. Philly sports—particularly Phillies (and have to shout out to my lifelong love, the Chicago Cubs) and Sixers—Pop Culture, The Enneagram and all things Disney.
Today, I am grateful for…
Friends, warm blankets, books, my girls, and coffee—always coffee.
Daniel Embree – Executive Director
Starting in early 2023, Daniel was drawn to the organization due to his strong connection with Kennett Square and his desire to become more involved in the community. With a background in the arts and nonprofit administration, Daniel seamlessly integrated into the organization like a puzzle piece that effortlessly slots into place. Creative and thoughtful, his vision for the organization, combined with his genuine leadership skills, is propelling the organization forward. As a team, we are grateful for his care and support, as we have personally experienced that people are of paramount importance. Read more about Daniel here.
What Kennett Collaborative event or program do you most enjoy personally?
It's impossible to pick just one of our programs, but I will say I absolutely love the holidays in Kennett Square. This place can be like a Hallmark movie! I took my nephew to see the Holiday Light Parade when he was two years old. He had a pretty small vocabulary at the time, but two of his favorite words were "truck" and "WOW!" Both words were repeated enthusiastically over and over as trucks covered in hundreds of lights rolled down State Street. It was so fun seeing that through his eyes. This year the parade will be on Saturday, November 25 to coincide with Small Business Saturday, so I'm planning a full day of shopping and dining before the parade!
Your Kennett "Enthusiast" tip?
We are lucky to have a public parking garage right in the center of town, so I never have to search for parking! Pro tip: you can actually pay for parking at the garage on your phone before you get to the gate, which makes things move faster at the exit. Also, we've teamed up with Longwood Gardens again this year for the holidays, and they are sponsoring free parking at the garage every Saturday in December! During Holiday Village Market, you can park at the garage and ride the free shuttle to the Creamery, making it easy to shop on State Street and Holiday Village Market without searching for a spot!
What was the last show you binge watched?
I love to garden, and I can talk for hours about landscaping with native plants–and all the deer, weeds, and other pests that make gardening a challenge. Ask me what's blooming right now and I'll tell you what perennials in the area you can look out for!
Today, I am grateful for…
An incredible team of hard-working, enthusiastic people who love Kennett Square and who help to make it the incredible place it is!