Colleen Cottrell, the talented and creative entrepreneur behind the well-loved Green Eyed Lady boutique at the corner of East State and South Union, attributes her success to staying true to what she set out to do when she opened the shop ten years ago. "I wanted to create a fun, unique, welcoming vibe." She pauses. "With a touch of hippie," she adds with a smile. "I also continually try to keep prices affordable. That's important, too—that customers can afford to buy the items they love."
Colleen's first fashion influence was her grandmother, who she describes as always dressed to the nines—complete with jewels, purse, and make-up. Colleen took that look forward a few generations with her colorful, free-flowing, and eclectic style. She's always been interested in fashion "to a point," she says. After graduating with a degree in psychology from West Chester University, she began working in the restaurant industry and was the manager of the Spence Café in West Chester for over a decade. When she and her husband Phil were married and had their son, however, Colleen began looking for a career with more family-friendly hours.
I continually try to keep prices affordable. It's important that customers can afford to buy the items they love.

—COLLEEN COTTRELL
Colleen's mother-in-law, who had started a small business buying vintage jewelry at estate sales and auctions and selling to her co-workers, opened the first Green Eyed Lady boutique, in West Chester, in 2004. She suggested that Colleen open a second Green Eyed Lady location, and they began looking around Kennett Square. "There wasn't much here in 2010," Colleen says, but she could tell it was a thriving town with lots of potential. And when she saw that the prime corner location was available and move-in ready, she set to work. She opened the Kennett Square Green Eyed Lady, a separate enterprise, just in time for the Mushroom Festival that year.
"I've loved watching the growth in Kennett Square—it's changed so much," she says. "I see new businesses and new faces all the time, and I still hear people saying it's their first time in the shop." Colleen also enjoys the strong community spirit and the people she meets. "People are so nice here," she says, "and I can really build relationships with every person who comes in."
A TALE OF TWO TOWNS
Like many small business owners during the COVID-19 shutdown, Colleen found herself working harder than ever—updating her online presence, keeping customers in touch and up to date with new merchandise through social media, and offering personalized service, delivery, and curbside pickup so she could stay in business while keeping everyone safe.
But Colleen was also in the process of taking over the West Chester store from her mother-in-law when the pandemic hit early this spring, so in addition to keeping the Kennett Square store afloat she's spent countless hours working on changes in the West Chester location. The newly refreshed West Chester store is light, bright, and more open, with Colleen's distinctive Green Eyed Lady vibe. For now, she says, she'll be splitting her time between the two stores.
She enjoys the very different pace of each town. "West Chester is the county seat, with the university, and night life. And I love the calm, peaceful, and friendly ambiance of Kennett too." She glances out at the sidewalk.  "Coming from the restaurant industry," she says with a laugh, "Kennett Square is like going to a spa every day—with retail therapy."
Colleen and her family live right between Kennett Square and West Chester, in Marshallton. "I love driving through the Chester County countryside to get here," she says. When she's not at one of the Green Eyed Lady locations or pop-up venues, keeping up with her son, or scouring estate sales and auctions for great finds, she enjoys going to the gym and cooking. "I'm also a big foodie," she says, "and I love to travel."
ALWAYS TRENDING BOHO VIBES
Green Eyed Lady's eye-catching, corner-wrapping window displays invite passersby to stop in and browse. And the shop delivers inside exactly what it promises on the outside—trendy clothing with a boho vibe that Colleen often displays with the perfect accessory from the shop's vast selection of unique and handcrafted jewelry.
"We only carry limited quantities of specially handpicked items," Colleen says, "so you don't have to worry about bumping into someone at a party with the same dress, necklace, or bracelet." The shop also carries Tom's shoes, Rainbow sandals, essential oils and other products from KC Essentials, and a laugh-out-loud funny range of socks, purses, dishtowels, and oven mitts by Blue Q. Colleen's sense of style and humor are evident everywhere. There's also an aura of serendipity at Green Eyed Lady—an invitation to discover something fun, new, and colorful.
The shop's relaxed ambiance is completely natural and intentional. "There's no pressure, ever, to buy anything. If you come back and it's still here, it's meant to be," Colleen says. Part of the Green Eyed Lady ethos is helping customers express their unique personalities, too. Colleen loves it when people find something new that makes them feel both comfortable and confident.
There's no pressure, ever, to buy anything. If you come back and it's still here, it's meant to be.

—COLLEEN COTTRELL
She's grateful for all of the support from her loyal customers over the past months in particular and is excited to be able to open again safely in this yellow phase. Green Eyed Lady customers are greeted with a warm (masked) smile and will find disposable masks, if they need them, as well as locally made hand sanitizer by KC Essentials throughout the store.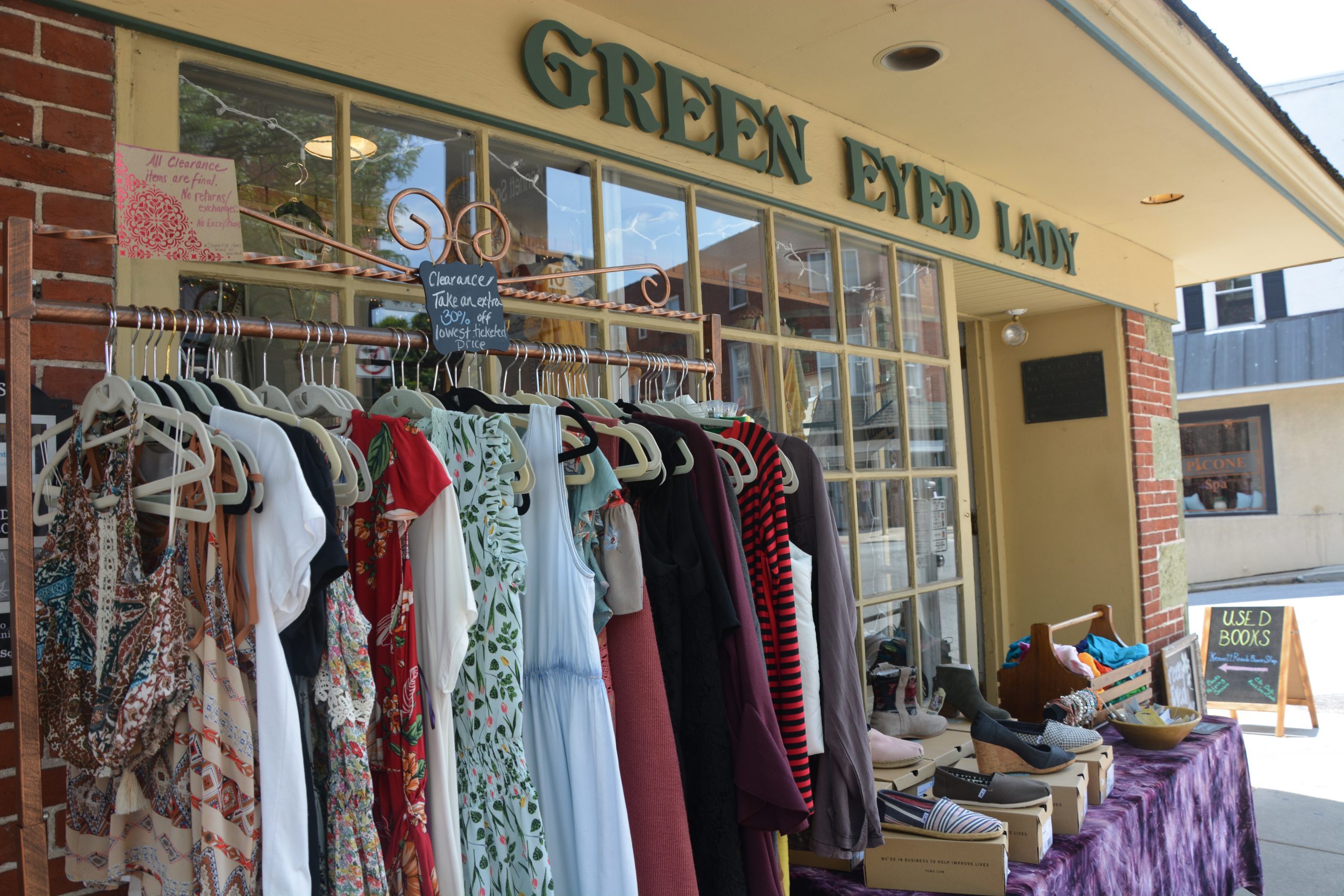 On the evenings and weekends when the 100 block of East State Street is closed to traffic this summer for "Open Air Kennett Square," Colleen is looking forward to extending the store with a "pop up" shop out front for outdoor market shopping and will also have extended evening hours for customers to shop before or after dining.
We only carry limited quantities of specially handpicked items so you don't have to worry about bumping into someone at a party with the same dress, necklace, or bracelet.
—COLLEEN COTTRELL
The yellow phase has arrived just in time for shoppers to update their summer wardrobes. "The best part of spring and summer is all of the colors," Colleen says. "All of the bright florals and prints and soft, flowing fabrics make you feel happy and cheerful." That sounds like just what the doctor ordered as Kennett Square comes out of quarantine in style.