Cristobal Castaneda greets each customer with a warm smile as he expertly juggles salsas and serves tamales. He texts his wife when he's running low on salsa fresca, then glances down at his phone minutes later and dashes behind his van to collect a fresh supply through the car window from Mariana, who's driven up from their kitchen on Cedar Street. He grins. "Now that I have it I won't need it."
Cristobal and his wife Mariana both had good managerial positions at Kaolin Mushroom Farms, where they had worked for over 20 years, and six children. Then one day, Cristobal says, Mariana told him she wanted to start something different. She wanted to sell her homemade salsas. The couple had always worked as a team, supporting each other through work promotions and schedule changes as they tag-teamed and raised the children. But Cristobal was worried about losing Mariana's contribution to the family income. "I woke up and we had a restaurant," Cristobal says with a smile. He could have no idea what the next years would hold, but he knew they would figure it out and work together as a family.
Cristobal grew up on a farm in Mexico, in San Martín Texmelucan in the state of Puebla. When he was 14, he left home to work in Mexico City. He'd had no contact with his family, but a year later his father found him and the prodigal son returned home. "It was important to be with my parents," he says. He and Mariana met when she moved to his town. He was 22 and "she was the new kid on the block." He smiles as he calculates how long they've been married. "Thirty-seven years," he says. His dream was always to move to the US, and he arrived here in 1984. Two years later, he brought Mariana and their two oldest children back with him. "It's a great country where you can succeed if you're committed and work hard," he says.
In between the birth of Mariana's idea to start something new and the day the restaurant opened, a lot of hard work went into establishing a product line and finding a certified kitchen. The Castanedas ran their first restaurant, in West Grove, from 2010 to 2013. Cristobal continued to work full-time at Kaolin and helped Mariana on weekends. Neither of them had restaurant experience, but they had lots of skills they could transfer from their jobs in the mushroom industry. "It's a different product but the same principles," Cristobal says. They moved the restaurant to Kennett Square in 2013, but between the markets they were starting to do and "crazy restaurant hours," they knew they had to make a choice.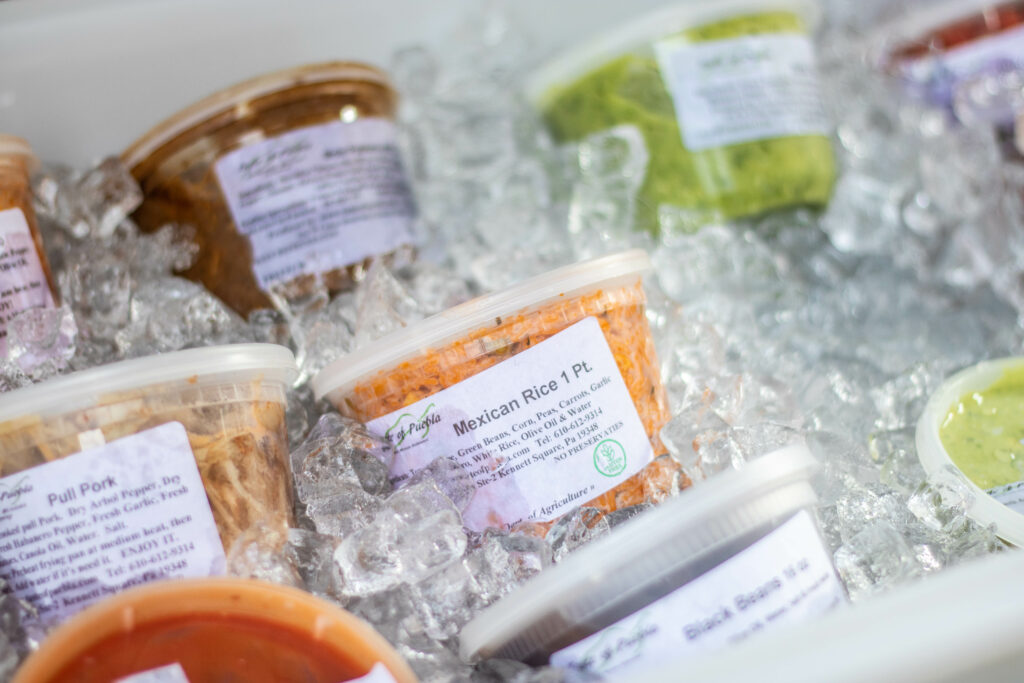 "Our mind was not to have a restaurant," Cristobal says. "Our sons were very young and we didn't see them very much." So little by little, and thanks to some helpful fellow vendors they met at markets, they expanded their network and were able to close the restaurant and focus on markets and their growing catering business. Cristobal says he's thankful that the family-run Taste of Puebla has a presence and loyal following at most of the major markets from Havre de Grace to Dickinson Square. But their heart, and their commercial kitchen, is right here in Kennett Square.
When they started out, people told the Castanedas that Taste of Puebla would do well because of the high Hispanic population in this area. But 99% of their customers are Anglo. "We wanted to share our food and traditions with the Anglo market," Cristobal says. Mariana is very health-conscious and has modified some of the classic recipes so that the food she cooks is as healthy as possible. She uses organic coconut oil in her tamales, for example, instead of the traditional lard. As her family of taste testers can confirm, she's been able to make these adjustments while retaining and even enhancing all of the wonderful flavors of their native Mexico.
"The children have all been involved in some way since they were little," Cristobal says. "Our son Chris loves and understands the business very well. He's almost as good as my wife in the kitchen, and he will take over when we're ready to retire." Another advantage to having their own business is that they can provide employment for two of their daughters who have disabilities. He wants to support all of his children in what they want to do, just as his father supported him. He also has wisdom gained from his own life to impart. "Everything you learn from your own experience has a price," he cautions.
Cristobal isn't ready to retire yet, though. He thinks of his life in different chapters—Mexico, Kaolin, running the business, and "maybe" retirement. "It's hard work, and you're kind of married to the business," he says. "When other people are having fun, you can't. But we're happy and blessed in what we do." He intentionally uses the word "blessed" instead of "lucky" because his faith is an integral part of who he is. "Things don't just happen," he says.
Whatever the future holds, the family will work together. And customers are grateful that Cristobal is at the market every week to share his country's heritage, his wife's delicious cooking, and his own warm smile.