Elizabeth Gehrt and Lexa Chernin, who both began their yoga journeys seeking personal growth, never anticipated owning a yoga studio. Once the idea began to take shape, though, they knew that they were united in their desire to present a space for common good to the community. "At Yoga Secrets we want people to feel welcome and safe and to find the gifts that yoga brought to us," says Gehrt.
While people are often impressed by the strength and flexibility of those who practice yoga, the physical benefits are only the surface-level, or external, gifts of yoga. The practice of yoga is at least as much about inner strength and peace. Yoga opens the body and quiets the mind, says Gehrt. And that's perhaps more important than ever right now.
"Many people come to yoga because a doctor recommends it or to achieve a specific goal," Gehrt says, "and often they find they really enjoy yoga and that original 'goal' shifts as their self-understanding deepens."

Although yoga happens to be trendy right now, it's an ancient practice that gives more and more as people commit to pursuing it. "Whether someone comes with a basic desire to become more physically flexible or simply wants a good workout, we hope when they come into the space they'll see how much more yoga can be," Gehrt says. "Yoga can also calm anxiety and offer spiritual healing, mindfulness, and focus through meditation. These are some of the gifts, or 'secrets,' of yoga that we want to help people discover for themselves."
What to Expect
The first thing people need to know, Gehrt says with a laugh, is that they don't need to be flexible to do yoga. "That misconception comes from the media's portrayal of Western yoga," she says, "But it's not really about that." Rather, she says, it's about understanding who and where you are, moving forward and holding yourself softly and compassionately, and being present.
Although yoga has always offered benefits to its practitioners, these ideas resonate perhaps more powerfully now than they have for some time—in a world stressed and broken and worn out by a global pandemic. Because yoga and its sister science, Āyurveda, are based in ancient tradition, these practices and truths have stood the test of time. They're as relevant and helpful for us today as they have been for centuries.
"Regardless of where someone starts on this journey, we're all working toward the same goal—to better ourselves," says Gehrt. Part of making Yoga Secrets a safe place to do that is providing different platforms for people to start where they feel most comfortable. Gehrt and Chernin build their class schedule with various styles of classes, including gentle and yin classes, which offer a softer, slower-paced, and relaxing practice. Yoga Secrets also offers hot and warm vinyasa classes as well as prenatal and private classes in addition to a variety of special events and workshops. They offer safely modified in-studio classes as well as online options. Classes are small and instructors help each individual student make any modifications necessary for physical limitations. Someone who recently suffered a stroke, for example, found yoga to be helpful in reestablishing the mind-body connection. Yoga Secrets' beginner series is typically a block of eight classes that break down and teach the different facets of yoga.
Gehrt and Chernin are also committed to providing pathways and support for people to continue their yoga journeys—whether that means taking a workshop on meditation or a 300-hour training course. "We wanted to provide a local platform for people to go deeper and learn more," Gehrt says. When Gehrt and Chernin did these trainings themselves, they travelled to places like New Mexico, California, and India.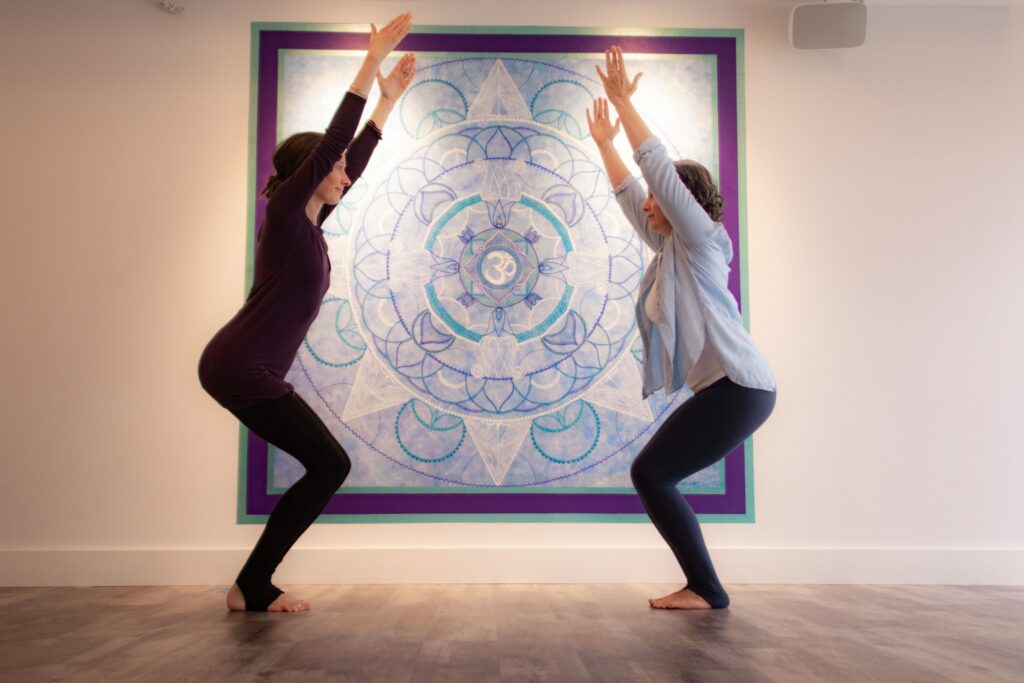 Safety First
There are many dimensions to creating a safe space—from making sure people feel welcome and accepted to ensuring their safety in the midst of the pandemic—and Gehrt and Chernin take the latter very seriously as well.
Last summer, Yoga Secrets received a grant from Historic Kennett Square's Small Business Response Fund (SBRF). Like every small business, Yoga Secrets has suffered the severe economic impact of pandemic-related shutdowns and restrictions. But, in a perfect example of integrating the mindful intention of their practice into their business, Gehrt and Chernin decided to use the funds given by the community to give back to the community. Rather than use them for expenses like rent, they invested in best practices at the studio to pay it forward.
"We used the SBRF funds to buy equipment to livestream classes to our local community of practitioners as well as friends and family across the country. Our livestream capabilities have allowed our studio to operate online almost continually throughout the pandemic to bring our clients the same great yoga classes in the comfort and safety of their own homes. Especially during this stressful time, the services we have been able to provide with this new equipment have made a huge difference for our clients' mental health and physical well-being," Gehrt says.
In anticipation of bringing students back to the studio safely, Yoga Secrets also invested in the newest, medical-grade HyperHEPA air purifiers from IQ Air for both of their practice rooms. "Air quality is at the forefront of everyone's minds, and the ability to provide the cleanest, safest environment for our clients as we move back into the studio is our number-one priority," Gehrt says. "At Yoga Secrets we provide a safe, secure place where people can practice and focus on themselves, without any worries or distractions."
"I'd lost my connection to who I was"
Gehrt started yoga as part of a personal quest. "I'd spent the previous eight years having babies and being at home," she says. "I'd lost my connection to who I was beyond being a mom. I needed something that was mine, and yoga spoke to me on so many levels." It was a spiritual journey, too, Gehrt says. "Yoga gave me a way to view the spiritual part of being human in a way that made sense to me. All of the puzzle pieces—of my Catholic upbringing and how I felt in my heart—fit together so perfectly." Yoga helps practitioners feel better physically, Gehrt says, but it also "lights an inner fire inside each of us and enables us to connect with something beyond ourselves."
The story of Yoga Secrets began ten years ago, when Gehrt and Lexa Chernin took a teacher training course together and became friends. Gehrt and Chernin had been teaching with the original owner of Yoga Secrets, Mary Honchock, when they came on board as co-owners with her. The studio was located near Longwood, and two friends took over completely in 2017 and moved to their new location, in Cannery Row on South Mill Road (just across from Victory Brewing), in 2018. "We wanted a larger space to better serve students," Gehrt says, "and we also wanted to be closer to the center of this amazing and vibrant community."
There's no wrong reason to start a yoga practice, and Gehrt and Chernin welcome everyone to experience yoga's secrets. "We want everyone—from the person who thinks they can't do yoga to those who want to dive more deeply into different modalities and metaphysical ideas—to feel seen, supported, and successful and to benefit from their practice at whatever level they choose," says Gehrt.
For a great start to the new year, Gehrt and Chernin have put together a series of five classes called Yoga Fundamentals for Beginners and Beyond. These sessions will run on Sundays from 10–11:30am, from February 7 through March 7. Find more information and class schedules at http://www.yogasecretsPA.com