"When you're at the wheel, you breathe," says Debby Wyatt, owner of the new Centered Clay Studio at Kennett Pointe. The universal quest for balance might just end at the potter's wheel. Mud slipping through fingers, shaping clay into something new and beautiful—something unearthly happens in that connection with earth. "There's nothing like it, and it's so exciting to come away with a physical object you've made," Wyatt says.
Natural light floods the fully equipped clay studio, which offers clay arts education and open studio access for artists of all levels. Wyatt has given new life to the historic structure built by the Italian American Club in 1922 and describes the vibe as "open, industrial, and warm."
Wyatt began exploring pottery 14 years ago when, after years spent raising children and building a career, she took a series of classes. She traded private lessons for "studio grunt work" unloading kilns, reclaiming clay, and mixing glazes. "The grunt work is a great part of the process," she says, and she learned the kinds of things that come only with this kind of experience. She fell in love with working with clay and continued her studies, bought her own wheel, and joined a potters' guild.
What started as a hobby became a passion—and an avocation. She's spent 14 years researching, asking questions, and gathering ideas from around the country for her studio. "When we travel, my husband looks for hiking trails and I go to pottery studios," Wyatt says, laughing.
She's grateful to all of her mentors and those in the pottery community who have shared resources and ideas and feedback along her clay journey. Now that she has her own studio, she's as excited to continue learning as she is to teach others.
Clay for all
Wyatt is finding that people are eager to learn and try something new, and her various class offerings cater to people with all different levels of experience. She's also seeing the healing properties of this grounding, ancient art form at work. "People come in stressed and that stress goes away—it goes into the clay," she says."Clay makes them feel good."
Every class is a hands-on experience—from eight-week beginner and intermediate courses to a variety of three-hour classes including the popular "try the wheel" sessions and "I made that" classes. In just a few hours, participants make something fun and functional like a mug, a charcuterie set, a pet bowl, or a seasonal pumpkin or Christmas decoration. Centered Clay Studio also offers evening classes, held from 6pm to 9pm, which make perfect date-night clay dates. The schedule of current offerings can be found on the Centered Clay Studio website. Wyatt is also happy to schedule workshops for private groups of friends, family, or coworkers.
Wyatt and her instructors welcome complete beginners as well as those with some experience, and the emphasis is on fun, learning, and discovery. "Demystifying the process of learning this for myself helps me in teaching others," Wyatt says. "Try the wheel" participants watch a brief demonstration to learn the basics and then get a feel for the wheel on their own, with assistance as needed. Students keep their best two pieces, pick their glaze, and leave them to dry and be fired. "We try to get the pieces out for people in three weeks," Wyatt says, "but it depends on the humidity in Kennett!"
Open studio memberships are also available, and members can sell their work in the pop-up gallery. Jules, a Kennett Square native pursuing an MA in Arts Education at Tyler, is a member and studio tech who trades studio time for helping to load kilns and other tasks. As a commuter, she particularly appreciates having a space to work that's close to home.
Beautiful pottery pieces aren't the only things being created at Centered Clay Studio. Friendships are forming, too. Wyatt describes the studio as a melting pot where people from all different generations and walks of life gather to create. "It's everything I dreamed it would be, and more," she says.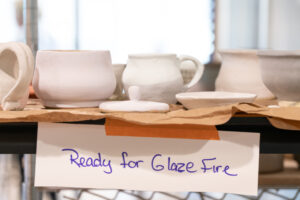 Shape, glaze, fire
With ten wheels, two kilns, large work tables, and stacks of different forms, stamps, and tools, Centered Clay Studio is fully equipped with everything needed to play with clay. There are endless ways to personalize a piece, and in racks filled with drying cups and plates and bowls, no two are exactly the same. Students can also choose to use stamps and rollers to imprint designs on their creations. "Some of these pick up the glaze in really delicious ways," Wyatt says.
When the pieces are dry, they're ready for the kiln—which adds a magic all its own. In this intensely hands-on process, the firing is the point at which control is taken out of the potter's hands. The kiln takes in pieces crafted with hope, imagination, and artistry and turns this pure possibility into its final artful form.
A big part of that magic is the glaze, and racks full of gorgeous glaze samples are a work of art in their own right, with lots of variety and color. Wyatt has been dreaming about, and collecting, glazes for her studio for years. She's also developing a few custom glazes unique to Centered Clay Studio. "We have so many base glaze colors and we've only started to tap into the endless possible combinations of colors," she says.
The clay itself is another variable that affects the glaze and contributes to the infinite possible combinations as the chemistry of this art form comes into play. Wyatt has hand-selected four standard clay bodies, with different mineral contents and textures, to offer in the studio. A higher percentage of grog, for example, which is granular and adds texture and strength, enables the artist to do more with a piece before it goes into the kiln. A simple, classic brick clay, on the other hand, is soft and "feels like butter," Wyatt says.
Being environmentally conscious is an important part of the Centered Clay Studio ethos, and reclaiming clay is an important part of the process of creation. While she was researching and planning the rest of the studio, Wyatt was also gathering information on best practices for reclaiming as much clay as possible.
An ingenious system of buckets and filters ensures not only that clay is able to be reused, but also that it doesn't go down the drain. "Fighting mud is always a challenge," Wyatt says. An intriguing catch-all glaze recycling bucket will yield a one-of-a-kind mystery glaze completely unique to Centered Clay Studio.
A place for miracles
While the process of turning mud into art is its own miracle, the story of how Wyatt turned an old building into a vibrant, functional, and beautiful space is full of miracles too.
In the midst of supply-chain shortages last spring, the wheels were on backorder and the wait time for kilns and wheels was six to eight months. Wyatt ordered the ten wheels in March, in advance of her scheduled opening in September. When they still hadn't arrived in November, she found a pottery supplier in Massachusetts that had nine wheels and a tenth in the basement—and they arrived in four days. And, Wyatt says, "The kiln found me." As it turns out, the perfect community studio kiln was in Pocopson and popped up on Facebook Marketplace. A second, smaller kiln also arrived just in time.
Wyatt is grateful to her niece Nicole Wyatt, an interior designer, carpenters from Anything Wood & Metal in Baltimore, and developer Don Robitzer for helping to make her long-held dream a reality. As the Kennett Pointe development continues to take shape around it, Centered Clay Studio, the white building with the flag on Ways Lane across from the present Italian American Club, has become a hub of creativity and joy.
"I can't explain it," Wyatt says. "Whenever I've run into large obstacles, they've been solved. It's not about me. I feel called to this." Her team of instructors—Emma Price, Rachel Bevis, and Ben Drucker—all found her, too. They bring different experiences and backgrounds and share Wyatt's desire to pass on their love of creating with clay with others.
Now that the studio is up and running, Wyatt is passionate about connecting with the community in new ways, partnering with local groups like recovery homes, and sharing the healing joy of working with clay.
"There are a thousand ways that clay can break your heart," says Wyatt, "but there are ten thousand ways that clay can make you happy."
A full schedule of classes can be found here, and registration is now open for the next series of eight-week classes, which will begin mid-January. Centered Clay Studio gift certificates—perfect for holiday gifting—are also available.
Centered Clay Studio is located at 67 Ways Lane, Kennett Square.
Photos by Dylan Francis