"One of the many things I love about the KSQ Farmers Market is the conversations that take place and the relationships that grow from it. It's not just a place to buy local groceries, but it's a place to deepen your own roots in the community. As you shop regularly, you get to know the neighbors who actually grow and make what you feed yourself and those you love. And you get to know others in the community and learn from each other. It's nourishing to both body and soul," says Ros Fenton, Kennett Collaborative's Community Programs Manager, and long-time Farmers Market Manager.
As the founding program of Kennett Collaborative, the KSQ Farmers Market has aimed not only to support local farmers, agriculture, and makers but also to build a strong and thriving community. Twenty-four years later, the KSQ Farmers Market continues to connect the people of Kennett with those who grow and create their food. This, in turn, fosters a collective sense of togetherness within the community. Simply take a stroll through the Market on a Friday afternoon to feel uplifted by the buoyant atmosphere created by the lovely vendors and smiling shoppers.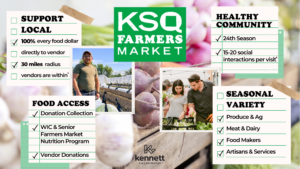 When you choose to shop at the KSQ Farmers Market, you:
Support Local

100% of every food dollar spent goes directly to the farmer or producer. Compare that to 14.3 cents of every dollar going to the farmer when you buy at a large retailer (USDA, 2019).
98% of our vendors* are within 30 miles of Kennett Square. [* The one exception being the long-standing favorite, Rex Farms Orchard / Big Hill Ciderworks, who faithfully venture to KSQ every week. We love you Troy… and your apples & peaches!]

Increase Food Access

Donation Collection hub for KACS and Free Food for All Delaware, encouraging shoppers to donate fresh product.
Participant in WIC & Senior Farmers Market Nutrition Program.
Many of our fantastic vendors and farmers donate individually to KACS and Free Food for All, and other organizations.

Participate in a Healthy Community

You are part of a community tradition spanning 24 years. THANK YOU for how you have supported local and this program for all these years!
People who shop at farmers markets have 15-20 social interactions per visit. They would have only 1-2 per visit when shopping at a grocery store (Farmers Market Coalition, 2023).

Enjoy Seasonal Variety

Farmers and producers only bring what is in season… and the wait is worth it! You always know you are receiving the best and freshest items including:

Produce & other Agricultural products
Meat & Dairy
Food & Beverage Makers
Artisan Vendors & Services
Shop and Support Local EVERY Friday from 3-6 pm at The Creamery. Join us on Friday, August 11th as we celebrate National Farmers Market week with fun activities and giveaways!
Also, make sure you stay informed about "What's Fresh" at the Market each week by signing up for the Newsletter here.