Molly Johnston has transplanted her Canadian roots deep into the soil of Southern Chester County. The little girl with an entrepreneurial spirit who started a company with her best friend to offer catering to their teachers grew up to build a business baking soul-warming, award-winning pies. Nomadic Pies has been tucked into its West State Street location since 2015, when Molly parked her popular "nomadic" farmers market-hopping pie truck and set up a permanent kitchen and storefront.
She's passionate about being a mom and about living out her vision of sustainability—in her business as well as in her personal life. Nothing brings a bigger smile to Molly's face than her son Noah (age 2) and newborn daughter Martha. But what she calls "a beautiful ecosystem" might come a close second.
A Complete Cycle: Farm to Pie
When your fork hovers over a warm Nomadic pie, just on the cusp of piercing the golden flaky crust where the filling bubbles tantalizingly through the vent—pause, mouth watering, to consider. The pie, a circle, is a perfect representation of everything that it is. Sweet or savory, it's much more than the most delicious pie you'll ever eat. It's also good for you, chock-full of healthy, natural, local ingredients. Every Nomadic pie is part of a bigger story, a cycle of goodness that begins with local farmers and producers, brings you the best pie made with love by Molly and her team in her small local business, and comes full circle to help sustain the local economy and even give back to the land.
Molly is passionate about sourcing Southern Chester County's bounty and using it to create the most delicious combinations of fillings for her pies. She loves the versatility and creativity of pie and the challenge of a bumper crop. The constantly changing Nomadic Pie menu showcases what's fresh and is a gauge not only of the seasons but also of growing conditions. If the temperatures and sunshine have been optimal for peaches, for example, customers can look forward to enjoying more peach pies. The menu is always evolving to reflect this seasonality and to incorporate more and more of what local producers offer.
Nomadic's savory pies feature combinations including steak, mushroom, and gruyere or roasted root vegetables, bison chili, and red Thai or yellow chicken curry. Sweet pies are filled with scrumptious fresh-picked local fruit such as cherries, rhubarb, raspberries, or peaches, as well as sweet potato, pecans, and chocolate lavender. The Nomadic team also processes and freezes some abundant harvests to delight customers with the limited surprise, for example, of blueberry buttermilk.
We're supporting the local economy in a different way—we're not just getting something from the farming community, but we're also giving something back.

– MOLLY JOHNSTON
Molly actually enjoyed doing her taxes this year, because she was able to see how many thousands of dollars went to local producers instead of wholesalers. "It quantified how much we're able to support the local economy," she says. "It makes a huge difference to small, one-family operations." She's also delighted to have been able to cut out the middleman on an ever-growing number of ingredients as her list of local vendors grows. Honey, maple syrup, buttermilk, pecans, and even coconut oil are all ingredients she's now able to source both locally and economically.
These relationships are also developing in deeper ways that benefit everyone. "We're finding our groove and feeling more and more supported," she says. Farmers are growing larger chickens for her, asking how many turkeys she'll need for the coming year, and raising more beef to keep up with her demand. Growers contact Molly about plenteous harvests, knowing she'll find the most delicious ways to make the most of what they've produced. It's important to connect customers with this symbiosis, too. "I'll tell someone, 'I'm sorry I can't make you a steak pie this week because we're waiting for a steer to come back from the butcher,'" she says.
At the end of this cycle, composting and finding ways to use waste bring new beginnings. "We just gave two trash cans full of scraps to the pigs at Rambling Roots Farm," Molly says. "That's supporting the local economy in a different way—we're not just getting something from the farming community, but we're also giving something back." She loves that someone called her recently to ask her for some of the chicken carcasses that she gives to the pigs.
That's a beautiful ecosystem.
Life Seasons
Molly's role and responsibilities have changed over the years, from pie truck queen and farmer to local business owner and mother of two. She's delighted to have found Kyla Cochran, her "right-hand gal" manager, as well as the dedicated, creative, and like-minded team of people she's assembled. "Kyla is crushing it," Molly says, and she points out that it wasn't Kyla's love of baking that brought her to Nomadic Pies but her shared vision and passion for what Molly is doing with the business. "Kyla is so passionate about buying local, living a minimal waste lifestyle, and incorporating local ingredients into every pie," Molly says.
Both Molly and Kyla take being "hands on" to a new level. Although Molly no longer raises all the chickens for her pies herself, you might meet her loading up at a nearby farm, or on the sidewalk outside the shop unloading bags and boxes of fresh-picked local produce or filling her car with scraps to go back to the farms. When Kyla was camping in New Jersey this summer, she filled up the back of her car with the amazing local blueberries she found.
In addition to building relationships within the farming community, Molly loves getting to know her customers too. "I remember who loved the apple ginger last year," she says, and when a customer moved here from Florida he asked Molly to recreate his grandmother's pork pie. At a Third Thursday last summer, Nomadic's pie-eating contest for little ones encapsulated the pure joy not only of eating pie, but also of community and of generations coming together to feast and laugh together.
News of these soul-warming pies baked with love continues to spread, and they're enjoyed far and wide. But Nomadic Pies is settled in Kennett Square. "I'm really happy with where I am and what the business has become. My roots are here now," Molly says with a smile.
Talk to Your Farmer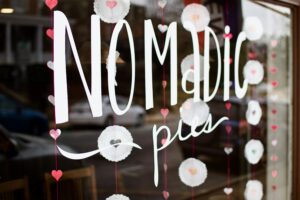 "Sourcing ingredients for the shop reflects the way we buy food for ourselves," Molly says. In a world where everything is instantly and constantly available, she encourages everyone to consider the far-reaching impact of their daily choices.
"Obviously I think supporting your local farmers market is a great place to start, but I also think it's really important to talk to the farmers," she says. "When you talk to your farmers about what's on their table and why, you become more connected to your food system. You'll understand why they have only a handful of half-pints of really small brussels sprouts to sell, or why there's limited winter squash. When you don't see what you want on the table at the farmers market, it's easy to go somewhere else to get what you want. But when you take the time to talk to your farmers and listen to the challenges they're dealing with this week, month, or season you can understand and appreciate how hard they work and how difficult farming can be with our changing climate.
"It's important that we continue to support our farmers through difficult growing seasons and buy what they do have on their tables so that they can keep doing what they do and hope for an easier season the following year. If we don't, they won't be at market next year.
"So change your menu and figure out how to incorporate what you were able to buy from the farmers market instead of hitting the grocery store."
Follow Nomadic Pies on Facebook, Instagram @nomadicpies, and at https://www.nomadicpies.com