It's the subtle arc of an eyebrow, flip of an ear, or flick of the tail that gives Peter Willard's trademark red dog his big personality. He's as at home skulking through the graffitied streets of Paris sporting a cheeky grin, ohhming blissfully in a cross-legged yoga pose, and grimacing as he lunges for a groundstroke at the French Open as he is striding through one of Willard's lush, moody landscapes. The red dog, le chien rouge—"wherever he goes, there he is," Willard says.
Willard's sense of fun and freedom is infectious. With a blink-and-you'll-miss-it stroke, he animates his larger-than-life characters. The largely self-taught artist doesn't work from photos, models, or in plein air. "It's all in my head," he says, "whether it's abstract or expressionist or a landscape." Although this clearly involves a complex cerebral process, it's also a discipline to keep it loose. "It's playing around with paint," he says with a grin.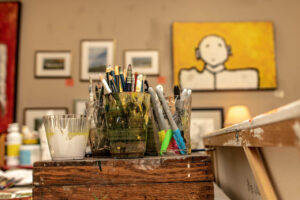 Willard's small studio gallery, with its large central table spilling over with paints, jars of brushes ("I don't buy fancy brushes and they sit in dirty water"), and projects in media res, together with its walls displaying framed landscapes and large canvases and portraits that lead most visitors to assume there's art from at least two different artists here, offers a glimpse into this rich creativity and spontaneity. "I'm often painting five minutes before I leave," he says. "I don't say, 'Today I'm going to paint this before I leave.'"
Through all of his work, Willard helps us to see. The landscapes came first.
Willard One
"I look at a dark moody sky and I see paint," he says. He translates this vision with watercolor, "and it evolves if I don't ruin it." He spent childhood summers in Maine, where his lawyer father (who also painted landscapes) hired an artist to teach Willard and his brothers to paint. The light and tonal shifts of Maine continue to inspire him, as do skies and landscapes from South Carolina to our own Brandywine Valley. "Sky is the most watercolory thing you can paint," he says. Rarely is there a sunny day or a blue sky in his landscapes.
"If I can't get the color I want, I rifle through the paint," he says. He spends time trying to get rid of greens he doesn't like, working to achieve the instantly recognizable tones and shades he calls "Brandywine-y colors." Willard enjoys using watercolor pencils "because they give you a line, but you can mess it up."
Like writers who put words on a page to write themselves into the place where a story starts, or sculptors who carve away stone to find the figure inside, Willard frequently cuts a painting out of a bigger piece, cropping to find the whole inside the context that gave it life. "People often think they have to fill the whole page," he says. But this ability to step back and see, along with his intentionally cultivated freedom, enable Willard to reframe and cut away the rest. "That's why working on canvases is harder," he says—and why many of his canvases have two or more paintings underneath.
This concept of erasure, or holding lightly to the paint he's applied to the page, is also reflected in another technique, sgraffito, for which Willard has become known in the art world. At some point, he began scratching away paint with various sharp objects to achieve the effect he wanted. While there's a fine line between revealing texture, light, and shadow and ripping a gash that ruins the painting, Willard finds the freedom of the experiment worth the risk.
He often takes photos of his work to help give him the perspective he needs. "I always see something wrong," he says. "If a piece isn't finished when I leave, if I can't figure it out, I'll go away and when I come back I'll see it. It's like a crossword that way." But he's learned the hard way to try not to try too hard to fix things. "It's really dangerous," he says. "But if it's under glass, I can't touch it."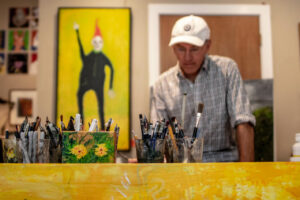 Willard Two
Experimenting with finger painting on an iPad led Willard to a series of portraits, including Genghis Khan, Gandhi, and a self-referential Peter Rabbit. The freedom he found doing these allowed him to connect with something different artistically, to communicate aspects of truth, humor, and political concern. These portraits, along with the red dog and other large-scale works, represent the "other side" of what's in his head. Willard's contemporary take on American Gothic, for example, a Modigliani-esque and recognizable figure with a pitchfork, stands alone now that the second figure has been painted over and a small black figure can be seen ducking behind the barn.
The red dog, inspired by the work of Basquiat, is often found in urban landscapes and gets to travel to Paris and other cities. He's even donned a superhero cape and has been spotted on a bike wearing the maillot jaune on the Tour de France. It's the second, third, or subsequent look—revealing the tiny spider dangling on a thread from his tail, a snail, a squirrel scampering up a drainpipe, a mouse diving into a grate—that brings depth to the humor. The more you look, the more you find, the more you smile.
The red dog and others often begin with a small doodle—and sometimes these characters show up in unlikely places in fun collaborations. Willard's series of designs for coffee cups at Philter, for example, have become something of a local legend for their incisive wit and lighthearted commentary. The new Pop Up Lending Library at Tino Leto Fields in Anson B. Nixon Park features the red dog grimacing at a ball, catching a Frisbee, and doing yoga. Inside, the bespectacled canine reclines and reads his Latin homework ("Omnia Gallia in tres partes divisa est"). Visitors to the abstract show at Scarlett Thicket Farm this weekend will find Willard's barn wall abstracts, spiders, and swallows.
"I try hard to keep it loose," Willard says—which, in any other context outside Trover Nine studio, might sound like an oxymoron. When people ask him about painting, he urges them not to get stuck in the lesson world. "My only rule is that you're allowed to do whatever you want," he says. "Paint what you like—and if you don't like it, throw it out."
Darkness and Light
Willard darts around his studio, pointing out the contrasting pieces and styles, the subtle connections between certain works, and explaining the processes. He laughs when he says he's been quoted as saying he's the poster child for ADD. But he's also an inspiration for those who dream of making a big change to pursue something they love.
Although Willard has always painted and doodled and took some art classes along the way, he pursued a career in finance. The largely self-taught artist began to show and sell some work over the years, and then in 2012, shaken by the deaths of three people who were close to him, he decided to devote himself to his art full-time.
He opened his Trover Nine studio on South Broad Street, in the recently renamed American Legion Arts Center, in July 2014. A year later, he had a serious bike accident and broke several vertebrae. He empathizes with the road to recovery of fellow Kennett Square artist Robert Jackson, who recently fell off a ladder and "broke the same vertebrae and added a few more." Willard's potentially fatal accident only deepened his resolve and passion to pursue art.
He loves working in Kennett Square and is excited for more artists to be part of the creative synergy here. And he plants the seed of another dream—the Kennett Museum of Modern Art.
The red dog is running across the landscape. Where is he going and where will he end up next?