Author Christie Purifoy urges her Southern Chester County neighbors to observe, listen, and work together to build beauty, and beautiful places for people, into the life of our community.
In his poem "How to Be a Poet," Kentucky poet and farmer Wendell Berry writes, "There are no unsacred places; / there are only sacred places / and desecrated places." Berry also says that "Everybody is an artist—either good or bad, responsible or irresponsible." In her presentation at the KSQ Speaker Series event on March 10th, nationally known author Christie Purifoy shared her thoughts on how we can be artists of place—placemakers. Purifoy urged her Southern Chester County neighbors to observe, listen, and work together to build beauty into the life of our community.
"Placemaking is an opportunity to restore something essential to our lives," she says. In order to do that work of restoration, we need to recognize the interconnectedness of things, engage in honest discourse about the subjectivity of beauty, and embrace that we are all artists. Purifoy herself has engaged in placemaking in various places including Florida and Chicago and, most recently, here in Southern Chester County as she and her family have put down roots and restored a West Grove farmhouse called Maplehurst.
"If we are going to talk seriously about beauty in the context of our placemaking," Purifoy says, "then we must remember how interrelated all of the parts are with the whole." In our increasingly silent springs as insect populations decrease, for example, our pursuit and cultivation of beauty must incorporate a renewed focus on caring for the environment. The tiniest insects that feed the birds that sing and that pollinate the flowers that bring us joy are fragile and essential pieces of this larger conversation about beauty.
We Can Talk About Beauty
In addition to paying attention to connections, patterns, and webs of relationships, we need to wrestle with the subjectivity of beauty and welcome these conversations back into polite discourse. "Placemaking can help return to us an idea of art as something essential to being human," Purifoy says.
"Perception is really important for placemaking. It doesn't matter how we make something if people perceive it as ugly, unwelcoming, or uncomfortable," Purifoy says. She drew deep satisfaction, for example, from creating a picture-perfect symmetrical garden at Maplehurst. It looked beautiful, but the circular path led people straight back out and a lovely old iron bench that sat in the middle of a rose garden invited photographs but not people. Purifoy and her husband have recently remade this beautiful garden into what some might say is a less beautiful place. "The pictures are less pretty, but it's a better, more beautiful place because instead of a place to admire it's an inviting space for people," she says.
We Are All Artists
Mark Hughes, who built Purifoy's home ca. 1880 was an "ordinary" artist and placemaker who put thought and care into details that continue to bring joy to her and her family today. In a house Purifoy describes as a vessel for light, moonlight puddles on the stairs through the Victorian two-over-two window, curved bay windows spotlight the setting sun, and trees shade and shape the landscape.
Even when people aren't able to articulate the reasons why, they know when they're in a place that's been thoughtfully designed and makes them feel welcome. Purifoy laughs as she describes walking around Kennett Square for the first time, having just moved here from Chicago, and feeling like she was back in Chicago. While Chicago is, of course, a completely different place, she connects that feeling to subtle but essential characteristics of both places that transform how people feel. She was able to walk to buy coffee, scones, and books in shops abutting the sidewalk in historic buildings that were built beautifully to human scale, under street trees that also help to create inviting spaces for people, with planters and fellow pedestrians.
"Christie added some really thoughtful layers to our KSQ Speaker Series conversations," says Kennett Collaborative Executive Director Bo Wright. "We called this series 'How We Build Matters' in part because we wanted to inspire people to realize that we can still build beautiful places. There's no reason why we can't build today the kinds of beautiful buildings we admire throughout Kennett Square and Southern Chester County that were built hundreds of years ago."
The Healing Potential of Placemaking
"Artfully made places can improve our collective sense of well-being," Purifoy says. We feel different when we're in beautiful surroundings, whether in nature or in a place created by and for human beings.
She tells the story of two men who came to Maplehurst to work on various projects—one from Vietnam and another from Mexico—who both told her, "This place reminds me of my home." What is it, Purifoy wonders, that creates this sense of home? The green quiet of a summer evening? Or a sense of peace, belonging, safety, or abundance? We might use different words, Purifoy says, but this shared sensibility that transcends geography and culture gives her reason to hope that together we can, across our differences, build places that we all can love. She acknowledges, too, that even people who haven't moved can feel a sense of displacement when the place they've grown up in changes around them. Placemaking has the potential, Purifoy says, "to heal what ails us if we take care with it and attend to the art of it."
In the poem "This Is Just to Say," William Carlos Williams uses the spatial, visual, and aural tools of poetry to create a beautiful work of art from what, in lesser hands, would have been a prosaic refrigerator note. These are the subtle differences, Purifoy says, to pay attention to—the differences between a red brick farmhouse and a red brick farmhouse oriented to hold moonlight, between a collection of plants and a garden that embraces us, between a street lined with shops and a place that feels welcoming and beautiful. These differences are everything, she says.
An Opportunity To Help Build Beauty Into the Life of Our Community
The vision of Kennett Collaborative's Kennett Blooms program, Wright says, is to do exactly the kind of placemaking Purifoy talks about, filling in the details of plantings, flowers, parklets, and street closures this spring and summer to make that difference between a street lined with shops and a place that feels welcoming and beautiful. "Kennett Blooms offers an opportunity for everyone to engage in this kind of placemaking—whether that's through supporting the projects with a financial donation or giving time or plants to Laura Florence's Meadowitos project, or coming to enjoy the Kennett Blooms: Floral Flash or Summerfest events in June. The vision of Kennett Blooms is to bring joy and beauty to all who live, visit, and work here."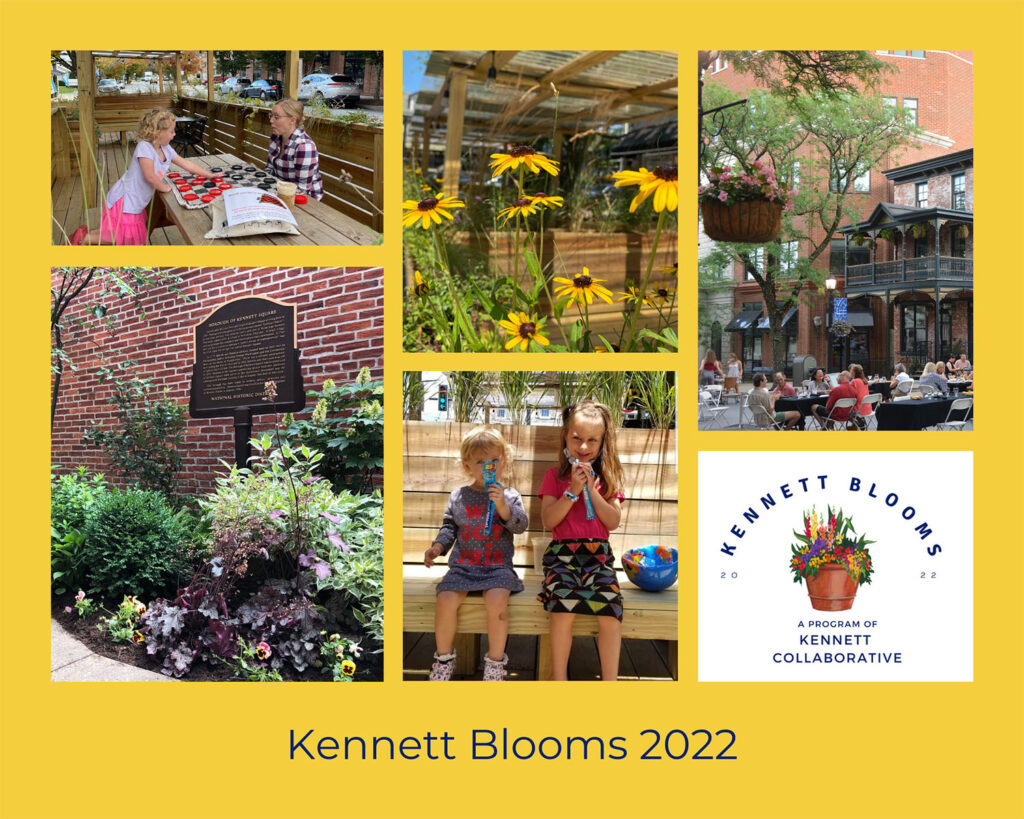 "We're excited to build on Christie's talk with our next KSQ Speaker Series: How We Build Matters event on May 17th, when we'll be talking about how building these thoughtful, beautiful places for people can go hand in hand with land preservation," says Wright. "Our speaker will be Steve Nygren, founder and CEO of Serenbe. Steve created the community of Serenbe, just south west of Atlanta, as a model to demonstrate that preserving 70 percent of green space interlaced with agriculture, housing, and retail is not only economically viable but the future of community well-being."
When we observe, listen, and work together, we can build beauty into the life of our community.
You can enjoy Christie Purifoy's full presentation on Kennett Collaborative's How We Build Matters YouTube channel.
RSVP here for the next KSQ Speaker Series: How We Build Matters event with Steve Nygren.