Summer is a season to savor. Whether you're looking to get away from it all, connect with your community, enjoy the great outdoors, learn something new, or find a cool spot to chill, there's fun for all ages and interests right here in Kennett Square. Here are a few of our top hyper-local picks for making the most out of summer 2023.
 
Free concerts in the park
The Kennett Area Park Authority (KAPA) hosts the free 2023 Summer Concert Series on Wednesday nights from 6:30–8:30pm, continuing through August 9th, at Anson B. Nixon Park. Click here to find details for upcoming concerts including the schedule of musicians, food vendors, and participating breweries. And don't forget to save the date for Rock the Park on August 26th.

Eat local
Immerse yourself in summer by enjoying the fresh and fleeting flavors of the season from the KSQ Farmers Market. Just-off-the-vine, fresh-from-the-local-soil produce is available every Friday afternoon from 3–6pm outside The Creamery, along with baked goods, meat, cheese, mushrooms, and much more. Sign up to receive the free weekly KSQ Farmers Market newsletter—the best source for details about what you will find at the market each week.

Learn something new
From the astonishingly beautiful and state-of-the-art new Kennett Library and Resource Center to Kennett's own vintage computer museum with interactive displays, Kennett Classic, the fascinating Kennett Heritage Center, and Kennett Underground Railroad Center, our local area abounds in resources for expanding your horizons.

Third Thursdays on State Street
Third Thursday on State Street is the quintessential summer-in-Kennett-Square experience—the community spirit is palpable. Enjoy alfresco dining, live music, extended shopping hours, children's activities, vendors, food trucks, and more. Remaining 2023 dates are July 20th, August 17th, September 21st, and October 19th. Save the dates on your calendar and be sure to reserve an outdoor table at your favorite State Street restaurant. Follow @kennett.collaborative for updates and a map of participating vendors each month.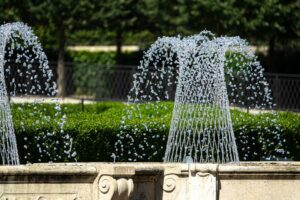 Festival of Fountains at Longwood Gardens
Experience the magic of Longwood Gardens this summer—from vibrant Illuminated Fountain Performances to brilliant blooms filling the Gardens with breathtaking beauty and starlit evenings with alfresco dining and live music in the beer garden. Click here for tickets and full information on summer programming, including Fourth of July weekend festivities.
Make and create
Opportunities abound for people of all ages and abilities to create beauty and learn a new skill this summer. Centered Clay Studio, Sophisticated Bling Studio, Candle Studio 1422, and WGK Glass Art all offer a variety of workshops and classes for all levels.

Hit the trails along the Kennett Greenway
This 14-mile trail around Kennett is still in progress, but there are plenty of completed sections to explore and enjoy! Try the Parrish Trail (trailhead opposite Herb Pennock Park at 650 W. South Street) or the YMCA Trail. Click here for more information and to see a map. (And if you love our local trails and open spaces, follow Kennett Trails Alliance to learn how you can get involved and help get Kennett connected!) In addition to Anson B. Nixon Park, spend some time getting to know Chandler Mill Preserve, Marshall Bridge Preserve, and Stateline Woods Preserve—click here to find more.

Enjoy art
Square Pear Gallery's "Flowers Inspire" show is up through July 8th, and the gallery's new water-themed show will open on Third Thursday, July 20th. Square Pear also has limited availability for children's art classes. Click here for more information. Also be sure to check out Trover Nine Studio and Carol Lesher Studio.

Explore local wineries
The Brandywine Valley Wine Trail is dedicated to the promotion and preservation of the Brandywine Valley as a unique and outstanding wine-producing region. Discover wonderful wines at every one of the nine BVWT destinations, where you can learn more about the wines, vines, and wine making—or simply enjoy sipping a glass of your favorite vintage. You can explore the various properties online on the BVWT website and chart your course to take in a winery or two—or three—in a day or weekend. Or  set a goal to complete the entire trail over the course of the summer!